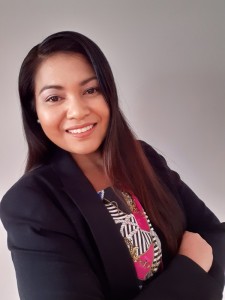 The Board of Directors of Raleigh International Bermuda announced that Dany Pen will serve as their new Executive Director.
A spokesperson said, "Raleigh International Bermuda delivers a transformational life programme to young people between the ages of 17 and 24-years-old by using overseas expeditions, local training and continued coaching to challenge them to harness their full potential and develop skills for life.
"The programme specifically targets young people who are at a crossroads, including those who are at-risk of not reaching their full potential.
"Ms. Pen joins Raleigh with a background of over 15 years of experience working with at-risk and underserved families and children in the private, public and non-profit sector through advocacy, creating community programming and developing educational curriculum in Canada, Bermuda and the United States.
"In her career as an educator and activist, she has worked with over 25,000+ young people ranging from age two through to the college level.
"Ms. Pen holds a strong advocacy in campaigning for the rights of children and families by supporting access to education and opportunities in order to empower our families and young people in the community.
"In 2016 in Canada, Dany Pen was honored with the World Builder award from OCAD University for making substantive humanitarian contributions to the community and culture and as an active citizen supporting global causes. This award is the university's highest honour for alumni achievement.
"Ms. Pen currently serves on the board of the VC Group of Companies as a Board of Advisor in raising funds for the Women Multi-Entrepreneurship Grant in Canada and is also the founder of the Women's A.C.T. [action, change, today], a social advocacy group promoting equality, justice, empowerment and support for women who are survivors of sexual assault, violence and domestic abuse in Bermuda.
"She was formerly the Commissioner of Human Rights in Bermuda and was most recently the Education and Communication Officer of the Bermuda National Gallery."
Tasha Jones, Chair of Raleigh Bermuda Board of Directors, said, "We are very excited to have Dany join our Raleigh Bermuda family and look forward to working with her to expand our programme and our support of our alumni network. We are thankful for the work and dedication by our former Executive Director, Tina Nash, and wish her all the best in her future endeavors."
Ms. Pen said, "I am deeply honoured to be appointed as the new Executive Director of Raleigh. I am excited to join an important organization that helps to pave way for our young people to discover themselves by challenging them in unique and complex situations through local training and international expeditions and to become resilient, confident, and positive active local and global citizens."
For more information, visit the website.
Read More About