Crews from JAG Construction were busy this week installing Slate 2.0 on a roof at a home in Somerset that was damaged during Hurricane Humberto.
The product is billed as a "sustainable alternative to quarried limestone slate for roofs" which has been "specifically designed for Bermuda roofs" using "up to 75% of locally available recycled materials."
Mason and Associates Ltd donated the time and materials to repair the owner's roof using their new product, Slate 2.0, assisting the homeowner, who is a member of Age Concern.
"This first roof repair installation of our product went smoothly and met all of our expectations related to handling, mortar bedding and brush finishing of the surface", said Mr Mason.
"From what we were hearing from the contractor, Slate 2.0 knitted in well with the existing stone slate and they were pleased with the feel of it, commenting that only 1 slate out of 200 suffered damage when it has handled."
House in Somerset with roof damage from Humberto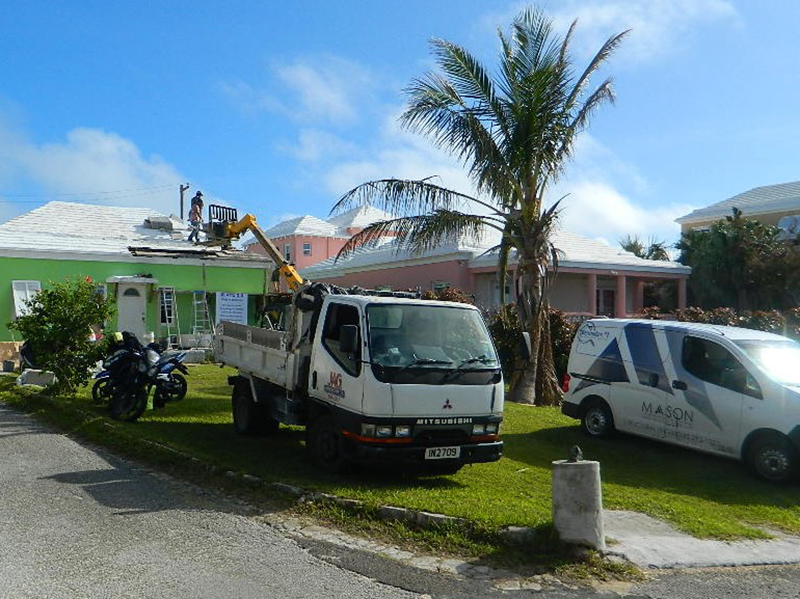 "The additional step of anchoring each slate to the timber framing using stainless steel screws and Windlock washers only took a few extra seconds of the mason's time but will result in providing an additional 300 lbs of resistance to uplift for each slate," the company said.
Palletized Slate 2.0 delivered to site, which was enough to repair 150 sq ft of roof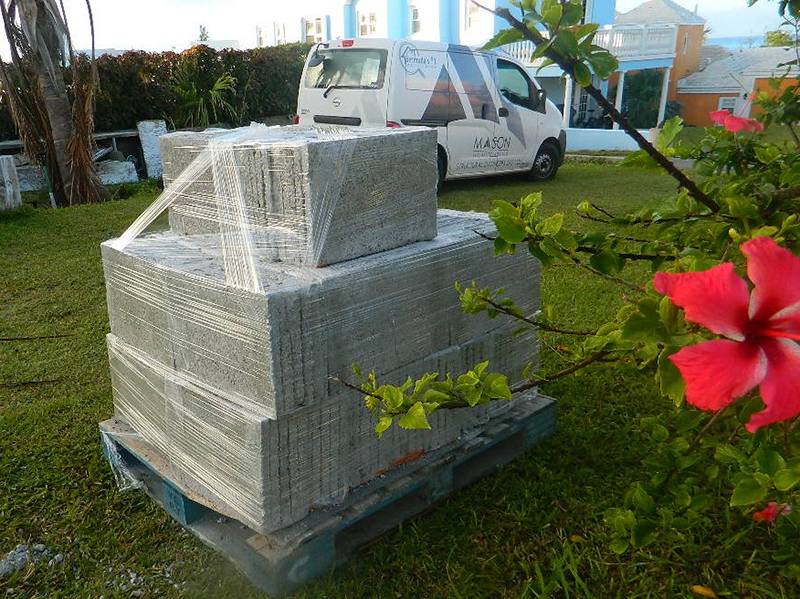 "Delivered to the site shrink wrapped on pallets meant that Slate 2.0 was simply hoisted to roof level with a forklift reducing time and labor costs for the repair.
"Closing in a roof quickly especially when the weather is unpredictable can be critical to reducing further damage to interior finishes and fixtures from rain, further reducing overall costs related to windstorm damage.
Roof repairs being done with Slate 2.0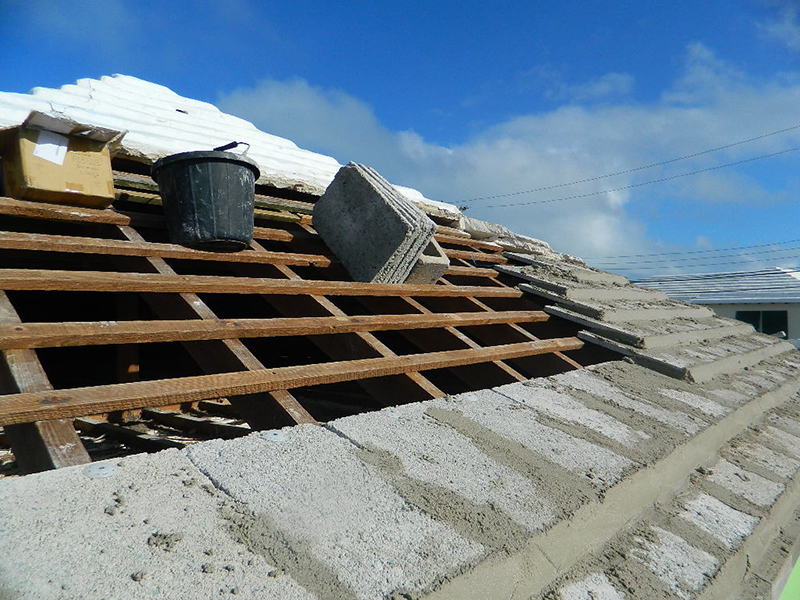 "I can see having Slate 2.0 in hand and on site quickly would a benefit to insurance companies and more specifically to homeowners", commented Mr Mason.
"So much so that I would like to think insurers may see some commercial advantage to maintaining their own inventories of Slate 2.0 for their customer's use immediately after hurricanes".
The 150 sq ft of roof repair in Somerset took JAG Construction less than a day to finish, leaving only the final coats of cement wash and top coating in the days to come.
Masons anchor each slate to the wood lath with stainless steel screws and Windlock washers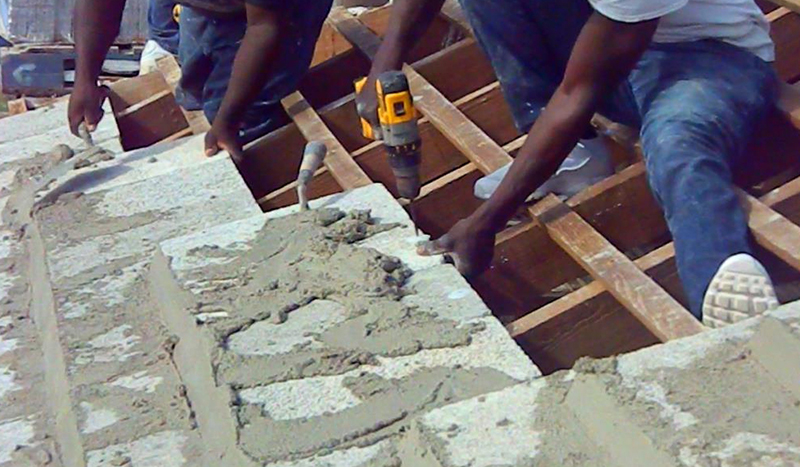 With this field test installation of Slate 2.0 successfully under their belt, Mason and Associates Ltd said they "hope to secure a manufacturer soon so that stockpiling of Slate 2.0 can be completed ahead of next year's hurricane season. "
Mr Mason said that he has also had expressions of interest for their Slate 2.0 from our Caribbean neighbors to the south, specifically from islands that have suffered significant hurricane damage recently and are just now starting to rebuild.
Masons from JAG Construction making repairs with Slate 2.0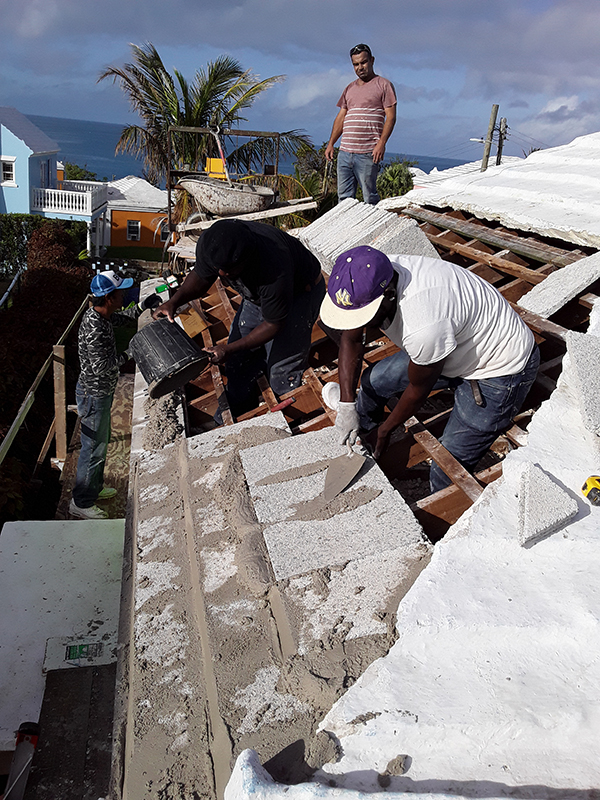 "There's no question that building stronger homes from the ground up involves a higher upfront cost and may take a bit longer than the timber framed homes we see to the south," he said.
"But when it comes to resisting Mother Nature, I'd rather be inside a home that has its roof well anchored to block and concrete. Hopefully we can export some of our methods to other islands in the hurricane belt."
Brush finished ahead of cement washes and final top coats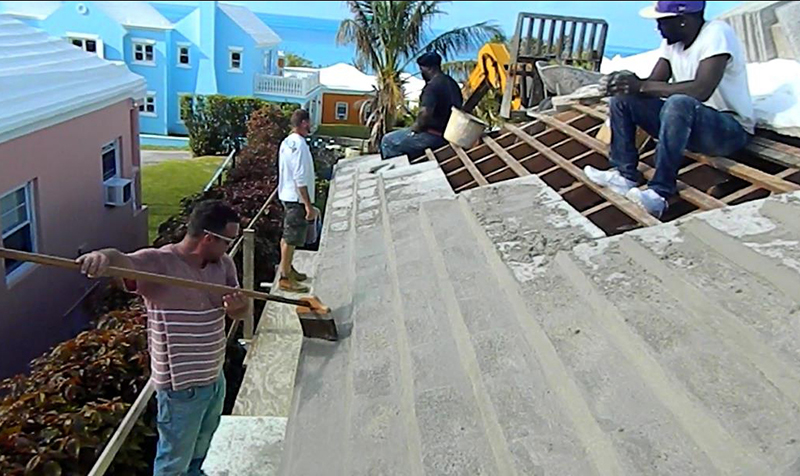 Mr. Mason added, "Bermudians might suffer some roof damage during a very strong hurricane, but at least now with Slate 2.0 we'll be able to effect repairs quickly, especially if we plan ahead and start to stockpile".
Crew from JAG Constructions with the owner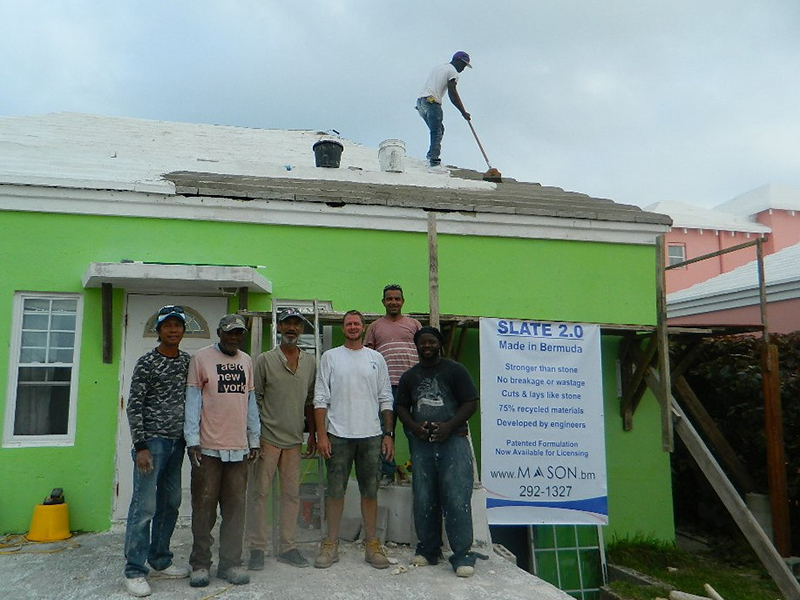 Read More About