Nick Kempe, the One Bermuda Alliance Senate Leader and Shadow Finance Minister, is to "stand down from the Party to pursue new opportunities overseas," the OBA announced today.
"Marcus Jones will become the Party's new leader in the Senate and Jarion Richardson, Managing Principal at Certainty., has been appointed to the Senate team. Pat Gordon-Pamplin becomes the new Shadow Finance Minister," the OBA said.
"Since becoming politically active in 2011, I have served Bermuda in various capacities from Parish Councils and Government Boards as well as the One Bermuda Alliance from Caucus Chair through to Senator," said Mr Kempe.
He added: "I was not able to perform any of these roles alone. Accordingly, I would like to thank all those who advised me and gave their time or financial support during election campaigns and other endeavours.
"I would also like to thank all those who welcomed me into their homes and shared their perspectives, hopes and fears about Bermuda. In particular I want to thank Craig for bringing me back into the OBA fold and showing so much confidence in me."
Senator Dwayne Robinson, Whip Susan Jackson, OBA Leader Craig Cannonier, new Senator Jarion Richardson, OBA Deputy Leader Leah Scott, Nick Kempe and new OBA Senate Leader Marcus Jones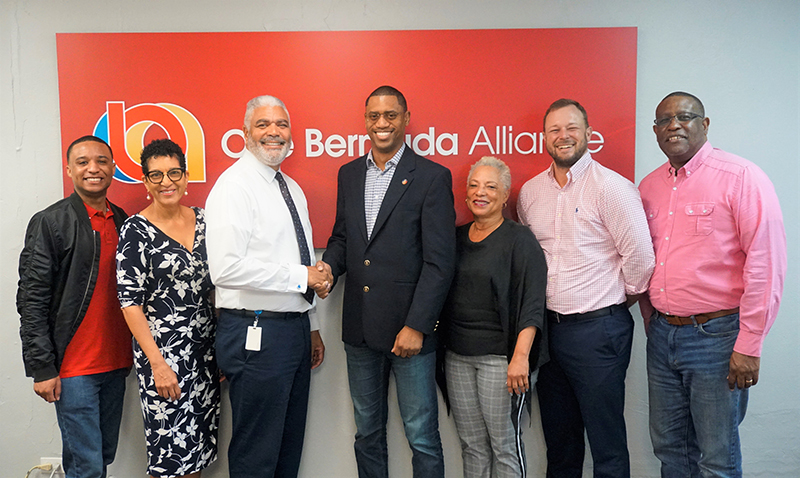 "As a result of an opportunity overseas, I will no longer be able to directly lend my energy, work and thoughts to political public service."
Mr Kempe, who is fluent in Spanish, is leaving to live in Spain, where he went to university and high school.
"I would like to see Bermuda prosper in a way that benefits all through the empowerment of those that need a hand up as opposed to tearing down those deemed as enemies. I would like to see a more tolerant Bermuda of those that look, think or love differently.
"I would like to see a political environment that is more welcoming and collaborative where not only those immune to bullying can thrive.
"Marcus will do a great job in the leading the Senate and Mr Richardson is an excellent appointment."
OBA Leader Craig Cannonier said: "Nick has been an extraordinary servant to both the OBA and the people of Bermuda and, as Senate Leader for the OBA, he has been a consistent thorn in the side of the Government.
"I hope that this is more a case of 'au revoir' than goodbye. There will always be a place for Nick Kempe within the OBA leadership team.
"However, we now look to the future and I have every confidence that Marcus will continue to hold this Government's feet to the fire in the Senate.
"I am also delighted to welcome Mr Richardson to the OBA family. With Dwayne Robinson, we have a fine Senate team."
The OBA said, "Mr Richardson was educated at Southampton Glebe, Warwick Secondary School and Bermuda Institute,
"He has served in the Bermuda Police Service, ending in the Intelligence Division. During that time, he also served in the Royal Bermuda Regiment, including overseas attachments to British Forces.
"After the BPS, Mr Richardson worked at the law firm Appleby and the Bermuda Monetary Authority. In 2016, he started the compliance services firm Certainty."
On why he accepted the Senate invitation, he said: "The country is contending with an oversized debt, crippling healthcare costs, cost-of-living and a failed immigration policy. Multiply that with an as-yet unresolved racial heritage and crumbling social institutions.
"In the future, my daughters will ask what role I played in the hard decisions to be made in the present. I don't have an answer yet, so I've joined the Senate to make one."
Mr Jones added: "It has been an absolute pleasure to work with Nick. He has been a great servant to the people of Bermuda, and I wish him well for the future."
Read More About