The Bermudian Artist Rise Up collective [B.A.R.U] will hold a virtual panel discussion about their current projects and advocacies on Saturday, July 18.
A spokesperson said, "Who? Brought together in 2010, B.A.R.U [Bermudian Artist Rise Up] is an underground artistic collective made up of members who are visual artists, performers, photographers, film-makers and designers.
"BARU Members are known in the past decade for using art as a way to challenge the status quo, break down barriers, stigma, taboos and bringing social awareness of gang violence, educations gaps, sexism, racism and abuse to the forefront of Bermuda.
"The panel discussion will feature key core members of BARU who will speak about their currently projects and advocacies. The members include: Dany Pen, King Somner, Ami Zanders, NOBODY, Davika Hill and Summer Wood; moderated by Hannah Collins.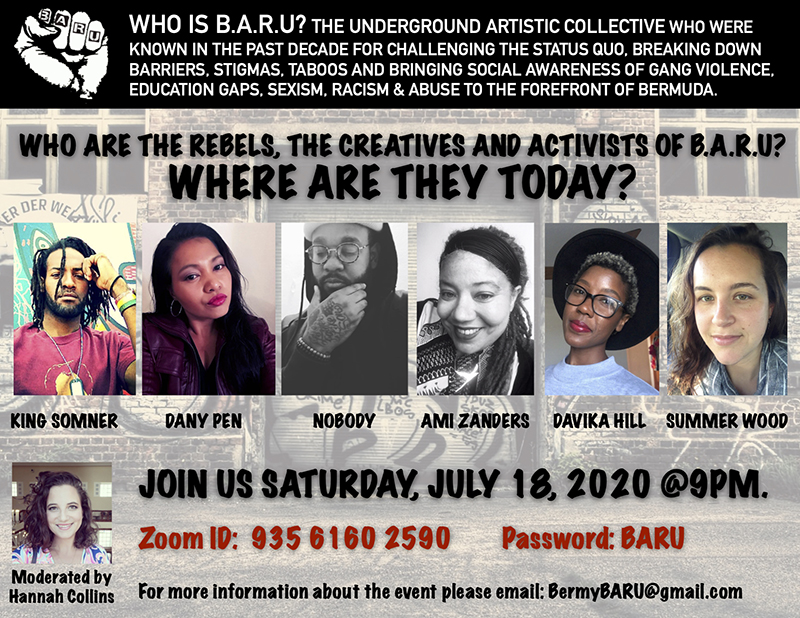 "Because we are an underground collective, we often are censored and are not rightfully written into the textbook/archival materials.
"The purpose of this panel discussion is to ensure our art collective has a place in art history in Bermuda and does not get erased and censored. We also hope to provide an awareness to younger artists who may feel there are no socio-political artists on island and/or artists who use art activism as an agent of change.
"Saturday, July 18, 2020 at 9:00pm on Zoom online. Please email BermyBaru@gmail.com for more Zoom details."

Read More About
Category: All, Entertainment, News