The Bermuda National Library in partnership with Department of Community and Cultural Affairs and Friends of the Bermuda National Library will be hosting a free webinar "Stories We Tell Our Children" on Saturday, August 8 from 12.00pm to 1.30pm.
Speakers will include Dr. Clarence Maxwell, Assistant Professor of History at Millersville University; Dr. Theodore Francis, Assistant Professor of History at Huston-Tillotson University; and Dr. Quito Swan, Director of the William Monroe Trotter Institute for the Study of Black Culture at the University of Massachusetts-Boston.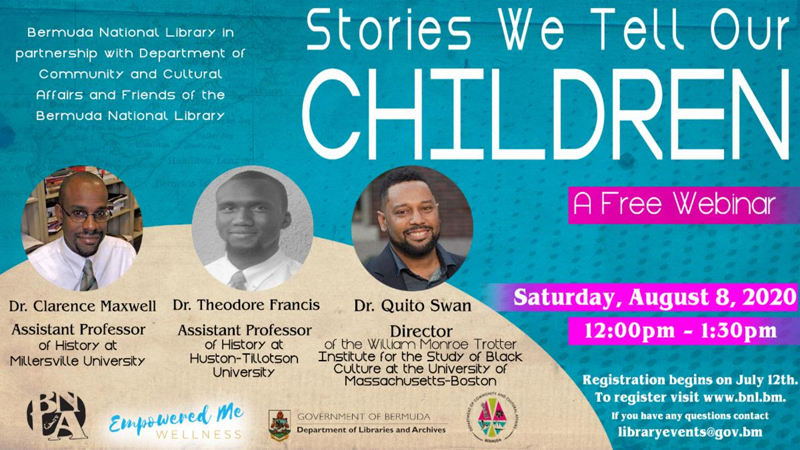 The event poster says, "Dr. Clarence V.H. Maxwell is presently assistant professor of History at Millersville University in Lancaster, Pennsylvania, USA, where he teaches on topics concerning the Latin American and Caribbean History, the African Diaspora, and the Atlantic World. He is co-director of the Atlantic World Center, a Center concerned with managing research, instruction and presentation of 1,000 years of Atlantic World History at Millersville University.
"He is also co-advisor for the university's new multidisciplinary Atlantic World Studies Major, which offers courses and instruction on Atlantic history and archaeology. Dr. Maxwell was formerly employed at the former Bermuda Maritime Museum [now National Museum of Bermuda] as Registrar and Director of Historical Research. He serves as associate editor of the Bermuda Journal of Archaeology and Maritime History, an annual multidisciplinary peer-reviewed publication of the National Museum of Bermuda.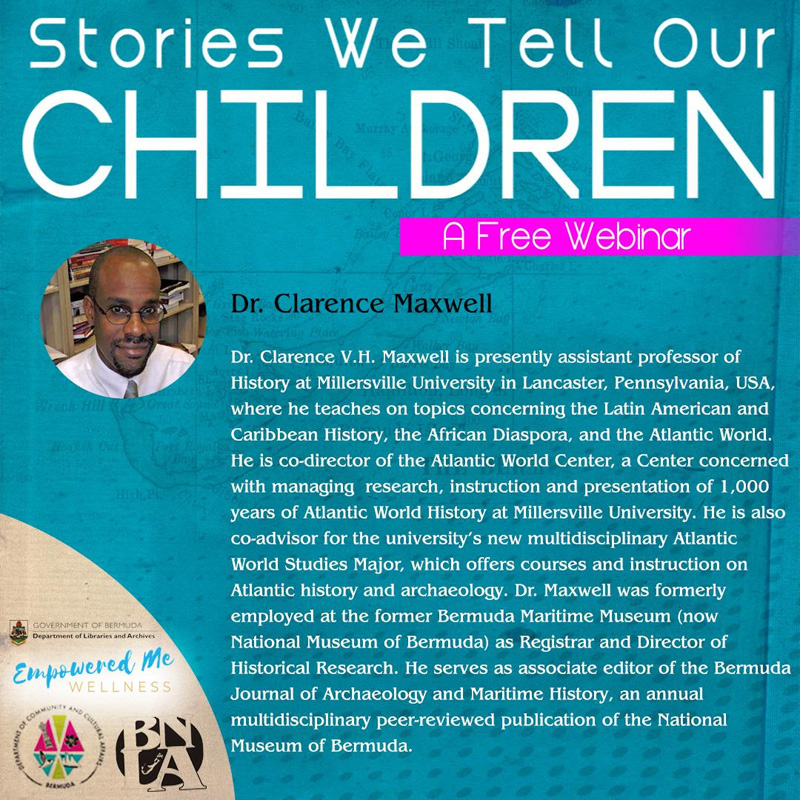 "Theodore is an Assistant Professor of History at Huston-Tillotson University in Austin, Texas where he teaches courses on African-American, Caribbean and United States History. A graduate of Morehouse College, Theodore earned nis M.A. and PhD. in Cariobbean-Atlantic Wortd History at the University of Chicago. He has lectured widely in the U.S. and been interviewed on TV and radio on subjects such as, the history of racism and racial violence, the assassination of civil rights leaders, Juneteenth and emancipation celebrations, as well as civil rights in the US. and the diaspora.
"Theodore writes on the history of black communities in the Atlantic World, co-authoring the book Prudent Rebels: Bermudians & the First Age of Revolution with Clarence Maxwell and Alexandra Mairs-Kessler, published in 2019. His current manuscript research focuses on Black leisure travel during the twentieth century — exploring the civil rights struggle to desegregate the British Caribbean Island of Bermuda.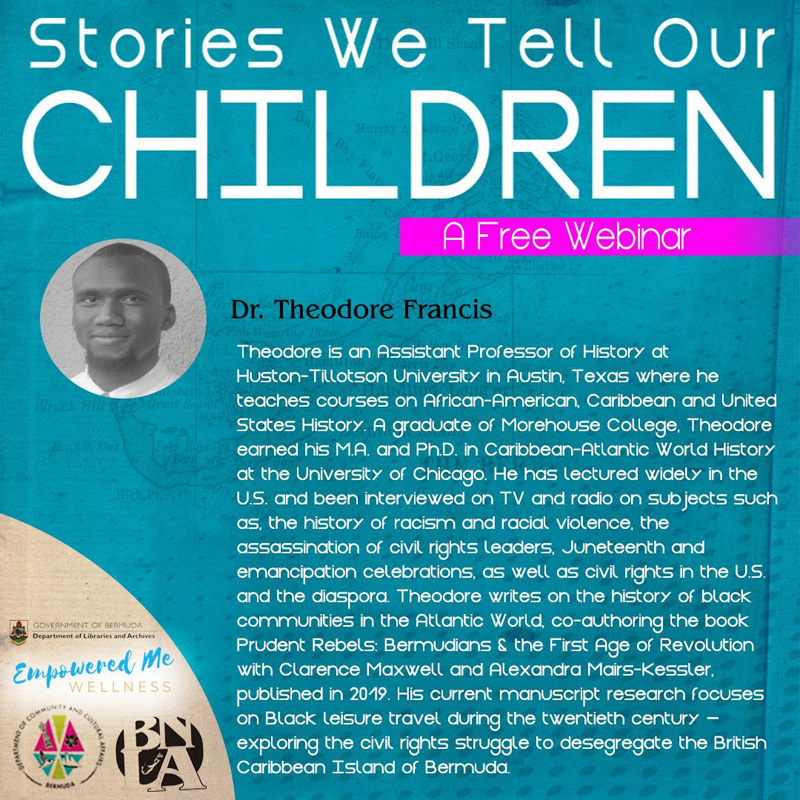 "Dr. Quito Swan is Director of the Wiliarmnm Monroe Trotter Insttute for the Study of Black Culture at the University of Massachusetts-Boston. He is also Professor of Africana Studies at UMass Boston and a historian of Black internationalism, Black Power, and the Black Pacific. Swan is the author of Pauulu's Diaspora: Black Internationalism and Environmental Justice [University Press of Florida, 2020] and Black Power in Bermuda [Palgrave Macmillan, 2010].
"His work has also appeared in journals such as the Radical History Review, the Journal of Civil and Human Rights, Wadabegel, North Star and Black Perspectives. He also co-edits the University of Illinois's book series on Black internationalism with historian Keisha Blain. Swan's research has garnered several national awards and grants, including fellowships from the National Endowment for the Humanities, the American Council of Learned Societies, Harvard University's Radcliffe Institute, the University of Texas-Austin, Indiana University, the Sasakawa Peace Foundation, the Wilson International Center for Scholars, Penn State's Humanities Institute, and Austratia's Universty of Queenstand. His current manuscript is focused on Black Internationalism in Oceania [NYU Press, 2021].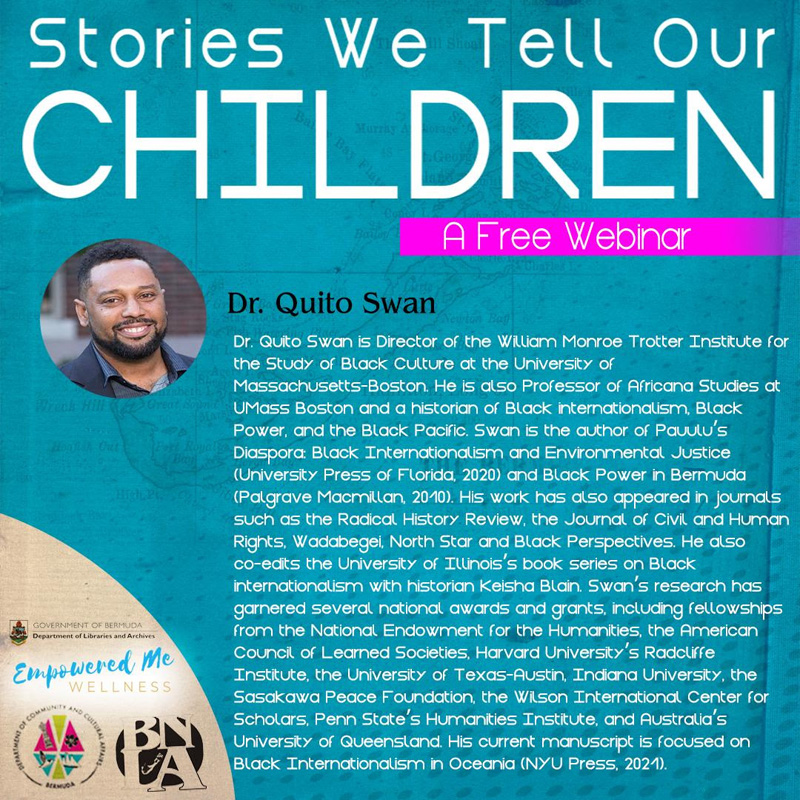 "Registration begins on July 12th. To register visit www.bnl.bm. If you have any questions contact libraryevents@gov.bm."
Read More About