[Updated with photos] The Bermuda Bicycle Association held the 2020 road race national championship race this morning [Aug 23] in St. David's with Tyler Smith and Rose-Anna Hoey emerging as the champions of the Open Men and Open Women categories, while Nicholas Narraway and Liana Medeiros took the Junior Men and Junior Women categories.
Smith earned his first national championship title in a masterful bit of team work with Kaden Hopkins of Winners Edge. The two, along with Conor White [Hamilton United], Dominique Mayho and Jamie Cousins [both VT Construction] split the race early with a blistering pace.
From the group of five Smith and Cousins made a further break, leaving White without a teammate and forced to do the majority of the chasing. When Cousins showed signs of fatigue in the 60 mile race Smith continued his pace with White still chasing with Mayho and Hopkins.
With one 10 mile lap left to go the difference was just 45 seconds between the solo leader and the chasing three but Smith extended his lead to finish with a two minute gap. In the sprint for second Hopkins was able to best White and Mayho.
Nic Narraway, on the left, edges Liam Flannery for Junior Men's National Championship Title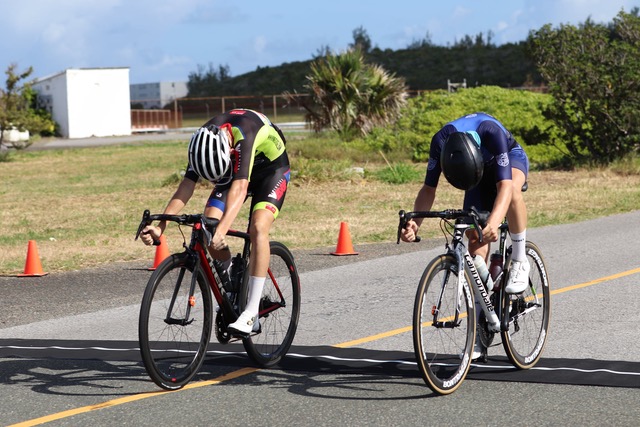 The women's race had a similar look to it as Rose Anna Hoey made a solo break on the third of four laps and held off the peloton for an impressive solo win. The ensuing sprint saw Jamie-Lee Wright take second overall with defending champion Caitlin Conyers claiming the third step of the podium. The Junior women raced 30 miles and Medeiros' win gave her her second national title in as many weeks. Sisters Jasmin and Zoe Hasselkuss finished second and third.
In one of the most anticipated events of the day, Nic Narraway scooped the Junior Men title from Liam Flannery in a frantic sprint to the line. The young men's competition split early with favorites Narraway, Flannery, Alexander Miller and Nick Pilgrim jumping out of the peloton and setting a pace too high for any chasers to match.
The foursome continued for several laps until Pilgrim faded, leaving Narraway and his Winners Edge teammate Miller with a strategic edge over Flannery [Team Gnosis]. A hesitation by Flannery to chase Miller came back to to haunt him as he then had to work harder than he wished on the last lap rather than saving his legs for the inevitable sprint. Narraway's margin of victory was a mere .024 of a second but enough to grab the title for 2020.
.
The Road Race Championships results follow below [PDF here]:
Click to enlarge photos:

20 Most Recent Sports Photo Galleries
-


Read More About