An online petition has been launched calling for the island's political leaders to have a debate, with the petition attaining over 230 signatures as of this writing.
The petition said, "In this political climate there is an atmosphere of uncertainty. Bermuda is a democracy, and we have a right like every other democratic nation to call on our leaders to have a debate.
"This debate will be the first in our history, and is long overdue. As a voter I am uninformed, and I do not know how to cast my vote. This debate will show the character of leadership and competence of what it takes to move this country forward. If you want my vote, then have a debate!"
Screenshot from the petition website: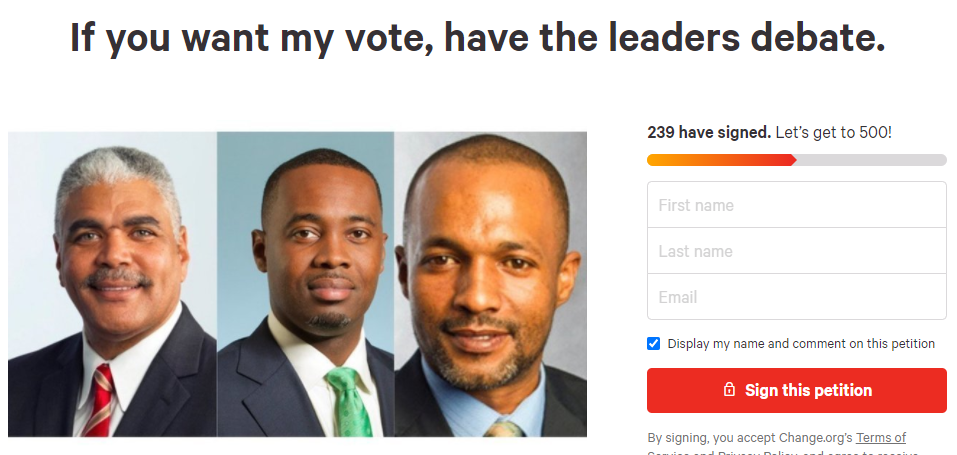 The topic of a pre election debate has been discussed for some time, and the PLP has previously stated that they "will accept offers for a national leaders' debate between leaders of political parties that are capable of forming government after the October 1st election" and it "must be accessible and distributed on television, radio and the internet and make provisions for the differently abled to access the content."
In effect, this means as the FDM is fielding 15 candidates which is not sufficient to form a Government, the PLP's statement means they would be willing to have a debate between the PLP Leader and OBA Leader.
We asked two FDM candidates about this during our live interview today, with Cheryl Packwood telling Bernews "the voting public needs to hear from all three leaders," and Patrice Minors saying "it's a leaders debate and thus the leaders should be afforded the opportunity."
If you click on the icons, our map will show the incumbent/candidates in each constituency:
Stating that debate must be "distributed on television, radio and the internet" means it would have to be done by a media outlet[s] with the ability to distribute across all those three mediums, and there is actually only one local media with the full TV/radio/digital capability. However the one media outlet capable of disseminating across all those three mediums is understood to be willing to host a debate, and also willing to share the online version of the broadcast with digital only media, such as Bernews.
The 2020 General Election is scheduled to take place in just over one week, with voters set to head to the polls on October 1st, 2020.

As the island gears up for the 2020 Bermuda General Election, we are doing our best to provide timely information and statistics, and you can find more information on the links below.

Read More About