Heritage Agency [Bermuda] Limited recently donated $1,000 to Vision Bermuda, the charity formerly known as the Bermuda Society for the Blind.
A spokesperson said, "Heritage Agency [Bermuda] Limited is pleased to support Vision Bermuda through a donation of US $1,000. Vision Bermuda, formerly known as the Bermuda Society for the Blind, offers a wide range of programs to promote visual health and empower persons who are blind or visually impaired achieve independence.
"This year, Heritage Agency [Bermuda] Limited's parent company, Knowledge First Financial Inc., celebrated 55 years of inspiring students to realize life's possibilities by enabling families to maximize their education savings.
"To mark the occasion and recognize the many communities the company has touched – in Canada, Bahamas, Jamaica, the British Virgin Islands and Bermuda – Knowledge First Financial provided a matching donation for every new education savings plan opened between July 6 and August 7.
Gerry Swan and Theresa Hall: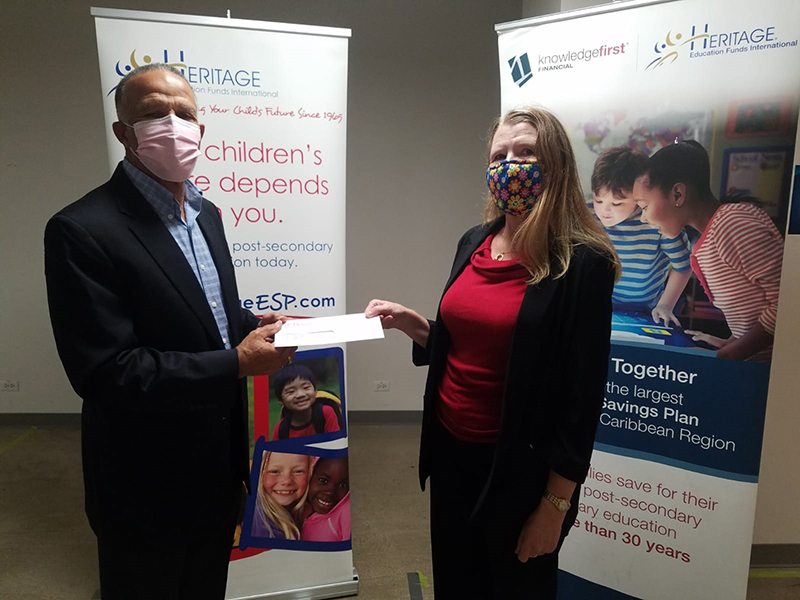 "The Heritage Agency [Bermuda] Limited team rose to the occasion by contributing additional funds to their chosen charity."
Gerry Swan, Branch Director, Heritage Agency [Bermuda] Limited, said, "On behalf our team, we thank you for the valuable support Vision Bermuda offers. We hope these funds will help the individuals with low or no vision feel supported and valued members of our community."
The spokesperson said, "Mr. Swan recently met with Theresa Hall, Executive Director, Vision Bermuda about the additional challenge of operating in the current environment."
Ms. Hall said, "With Covid-19 and the high risk of many of our clients, Beacon House is currently closed. We are doing as much client work as we are able to safely do, we are currently not doing any group activities.
"We do, however, hope to be able to get back to a 'new normal' version of that very soon and are very appreciative to be selected as a beneficiary of your charitable giving campaign."
The spokesperson said, "The Heritage International Scholarship Trust [HIST] Plan has been helping families in Bermuda offset the expenses associated with post-secondary education studies for over 32 years.
"During the first ten months of this year, families in Bermuda received over US$3.2 million from their HIST Plans and to date, the Heritage Plan has paid out more than US$57.0 million in savings and Educational Assistance Payments [to families in Bermuda].
"Heritage Agency [Bermuda] Limited is licensed to conduct Investment Business by the Bermuda Monetary Authority."
Mr. Swan said, "Saving for post-secondary education is one of the best ways to support a child's future success. I encourage parents and grandparents to contact me to learn more about the Heritage International Scholarship Trust Plan."
Read More About