The Bermuda Chamber of Commerce will be hosting its annual Budget Breakfast on Monday, March 1st, with the event to be held in a virtual format.
A spokesperson said, "The Bermuda Chamber of Commerce is set to host its Annual Budget Breakfast on Monday, March 1st 2021. This year's event, sponsored by PwC Bermuda will follow the same panel format as previous years and will be an online event.
"The event, will feature the Minister of Finance the Honourable Curtis Dickinson JP, MP, and panelists Economist and Chamber Vice President Nathan Kowalski and Director of Policy & Regulation, Corporate Secretary and Data Privacy Officer at ABIR, Suzanne Williams-Charles. The discussion will be moderated by PwC Bermuda leader Arthur Wightman."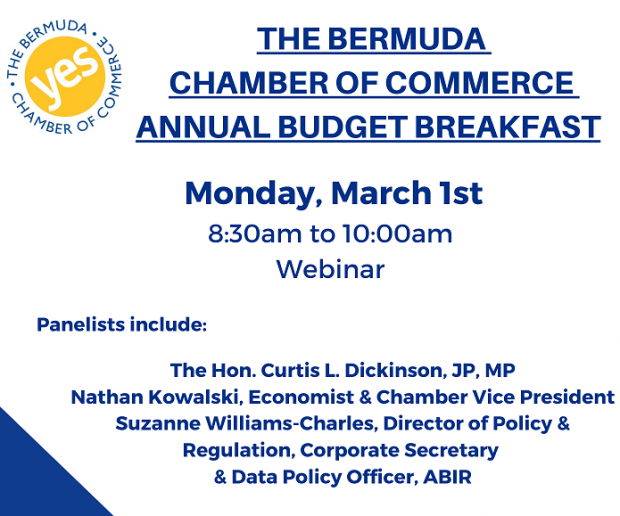 In making the announcement, the Chamber's Chief Executive Officer Kendaree Burgess noted: "We are happy to able to host our annual Budget Breakfast online this year, to be held the Monday morning immediately following the Friday 26th February Budget Statement.
"The Chamber welcomes the opportunity to present a forum for the Bermuda business community to discuss this year's Budget Statement, particularly given the impact of COVID-19 on businesses across the island."
Arthur Wightman, PwC Bermuda leader, comments: "PwC is pleased to once again sponsor the annual Budget Breakfast forum. On March 11, it will be one year since the World Health Organisation declared COVID-19 a global pandemic. On this day, PwC will be launching its 24th Annual Global CEO Survey, which will contain perspectives from chief executives on growth in the global economy and how they are reinventing their organisations to mitigate global disruptions and ensure sustainable growth.
"In Bermuda, the pandemic has profoundly changed our economic landscape, having a significant impact on many businesses as well as the country's finances. We look forward to hearing from the Minister of Finance on how the Government is responding to the crisis to ensure that there is a clear and realistic pathway to enable social, economic and environmental prosperity over the long term."
Tickets for the Budget Breakfast are available at www.bermudachamber.bm. For further information please contact the Chamber of Commerce at: info@bcc.bm.
Read More About