After adjusting for the retail sales rate of inflation – measured at 1.9% in June – the overall volume of retail sales increased 5.9% when compared to June 2020, according to the recently released Retail Sales Index.
A Government spokesperson said, "Today, the Minister for the Cabinet Office, the Hon. Wayne Furbert, JP, MP, released the June 2021 Retail Sales report.
"In June, the overall volume of local retail sales increased by 5.9% year-over-year. In value terms, retail sales rose 8.1% to an estimated $105 million. June's retail sales increased compared to the previous year's [2020] local retail sales, which reported a decrease of 3.2%. June's retail sales growth represents the 12th consecutive month of increase.
Chart extracted from the report: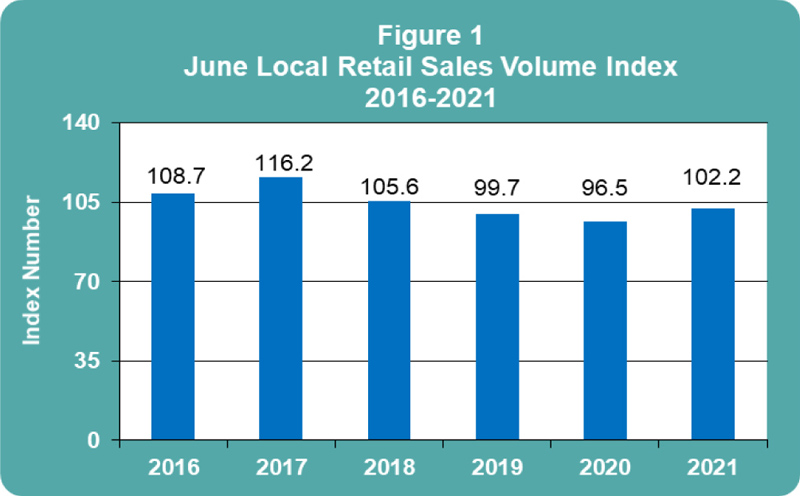 Minister Furbert said, "This consistent increase in activity is encouraging news for Bermuda's economy and many local businesses."
"Major highlights of June's retail sales activity included the increased sales in motor vehicles, clothing and apparel and at service stations, which registered double-digit growth.
"Four of the seven retail sales sectors experienced positive growth in June 2021.
"Motor Vehicle Stores' sales increased 76.7% due to a substantial increase in the number of cars sold compared to decreased demand for available vehicles in the previous year.
"Apparel stores' sales rose by 34.9% compared to a 43.3% decrease in 2020.
"Sales for Service Stations grew 15.5% boosted by a greater number of vehicles in transit, as well as an 8.2 % increase in fuel prices.
"Building Material Stores sales increased by 7.6 % due to continued demand for home improvement products and materials as well as an increase in contract sales. The Ministry noted that the streamlined processes and policies implemented by the Government regarding planning applications contributed to encouraging many building and renovation projects to proceed.
"The All Other Store Types sector comprises a variety of stores selling household items, furniture, appliances, electronics, pharmaceuticals, marine supplies and tourist-related goods. In June 2021, this sector registered a 4.6 % decrease.
"June sales volume for Food Stores decreased 1.5%. And the sales volume for Liquor Stores also fell by 3.4%. Total selected overseas declarations increased 72.0% in June 2021 compared to June 2020. The rise in overseas declarations was influenced by higher imports of furniture, clothing and personal import of vessels."
The full June 2021 Retail Sales Index publication follows below [PDF here]:
Read More About