[Written by Stephen Wright]
Flora Duffy aims to end her career-defining year on a high note by claiming a sixth Xterra World Championship in Kapalua, Hawaii, tomorrow [Sunday].
Duffy etched her name into the history books by storming to the gold medal in the women's triathlon at the Olympic Games in Tokyo last summer before clinching a record-equalling third World Triathlon Championship Series title.
Her annus mirabilis also includes victory in her debut at the Super League Triathlon in Malibu in September and making a winning start to the WTC Series in Abu Dhabi last month.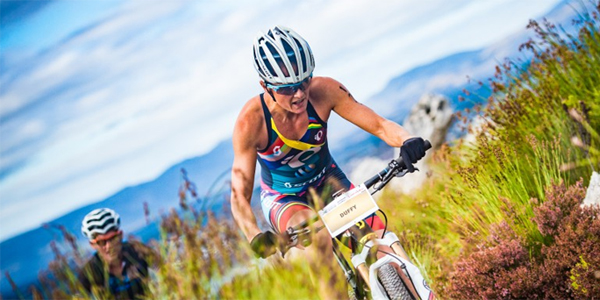 Already the most decorated women's competitor in the 25-year history of Xterra, the earthier form of triathlon, having won titles in 2019, 2017, 2016, 2015 and 2014, Duffy told Bernews: "I'm going for my sixth win here, which does seem pretty crazy.
"To be in the running to win six times makes me realise just how long I've been doing the sport!
"[Kapalua] is a beautiful island to visit and a great place to come and race. I always enjoy my time here, and I've enjoyed the build-up to the race over the past few days.
"I'm very much looking forward to finishing this year. It's been dragging on for a long time, so this will be a nice place to end it."
Duffy is the red-hot favourite to reclaim her crown despite facing a formidable field, including ITU Cross Tri World champion Loanne Duvoisin of Switzerland; former Xterra Worlds runner-up Michelle Flipo of Mexico; and ITU Cross Tri World title winner Eleonora Flipo of Italy.
Due to the poor weather conditions in Kapalua, the triathlon could be reduced to a duathlon, with Duffy adding: "There's a massive swell rolling in this weekend, and they think it will be very unsafe for us to swim.
"The plan B is for a duathlon, which is fine. I would rather do a swim, but if the Maui County lifeguards believe it's unsafe for us to swim and for them to maintain the safety, then a duathlon it is."
She said she is looking forward to a well-earned break after the Xterra Worlds, which was cancelled last year because of the Covid-19 pandemic.
"Dan [Hugo] and I have a holiday planned afterwards," she said. "We're going to spend a few days in Kauai [the oldest of the Hawaii islands], and I'm looking forward to that.
"Hopefully, I can end this year on a high note in Maui, but I'll have to see how it goes on Sunday. I'm just enjoying being able to race here again."
In the men's race, defending champion Brad Weiss of South Africa will be up against former winners Rom Akerson of Costa Rica, Mauricio Mendez of Mexico and American Josiah Middaugh, and Ruben Ruzafa of Spain.
The Xterra Worlds consists of a 1.5-kilometre swim, 30-kilometre mountain bike ride and a 10-kilometre trail run.

Read More About