Bermuda has not fared well in Kayak's "Remote Work Rankings," which states they compare 111 countries using 22 different factors, with the island ranked almost last.
Of the 22 factors they use, five are in the "local prices" category, which is driving down our overall score quite significantly as not only did they allocate us the lowest possible ranking — 1 out of 100 – we are also the only country listed in single digits, with the next lowest score being 14 for Switzerland.
The island's high prices are well known and we already have the dubious distinction of being listed in the Guinness World Records as having the highest cost of living.
Screenshot from the Kayak website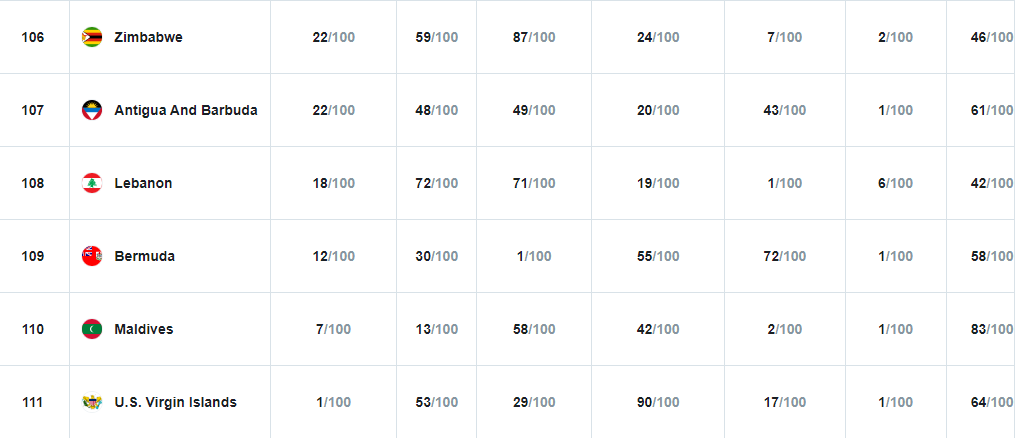 Kayak was also less than flattering about our "social life" scoring us at 1 out of 100, however unlike "local prices", we do have company in the "1″ scoring, with U.S. Virgin Islands, Maldives, Antigua & Barbuda, Cayman, Senegal, Belize, Anguilla, The Bahamas, Dominica, and Seychelles all earning the unenviable score.
Our weather — which is often listed as an attribute in remote working and travel articles — only earned a score of 58 out of 100, while the highest score Bermuda received in a category was 72 out of 100 for "remote work," which takes into account internet speed and whether the location offers remote work visas.
The island scored 30 out of 100 for travel, and 55 for health and safety, and scored quite well in the "LGBT equality and legal rights" sub section with a score of 92.
Bermuda was given a score of 83.96 in the "political stability and absence of violence" sub-section, which was almost double what Kayak ranked the USA at, as they were allocated a score of 46.23.
There are over 200 nations and territories in the world, and in explaining why they selected the 111 they did, Kayak said, "A total of 111 countries have been included in this analysis. These are the most searched destinations on our site as well as countries / territories that have announced their enhanced visa policies for remote workers."
According to their methodology, out of the 111 nations and territories they included, Bermuda is ranked 109th, Cayman is 104th, China is 85th, the UK is 74th, Canada is 65th, the USA is 60th, Russia is 48th, Sri Lanka is 13th and Portugal is 1st. You can view all the rankings here on Kayak's website.
Bermuda launched a remote worker programme back in August 2020 which allows people who have "the means to support themselves while working remotely" to apply to live in Bermuda for one year, and according to the Ministry of Labour Year End Review 2021, the one-year Work from Bermuda policy "yielded over 900 residents and generated over $23m into the economy."
Read More About