Cha'Von Joell has "stepped down from all roles at the TLC Group," and Taheera Lovell now "manages the strategic leadership, direction, and management of the team based in Bermuda, UK, USA, and across the Caribbean as CEO."
A spokesperson said, "Bermudian businesswomen Cha'Von Joell and Taheera Lovell have been passionately advocating for increased public awareness of Bermuda's Personal Information Protection Act 2016 regulation [PIPA], data privacy, protection and security best practices, and general knowledge of data privacy and cybersecurity within the local community for several years as co-CEOs of the TLC Group of Companies.
"The female CEOs joined forces in 2018 after both gained qualifications and valuable years of experience in the UK, particularly during and after the enactment of the EU General Data Protection Regulation [GDPR].
Cha'Von Joell and Taheera Lovell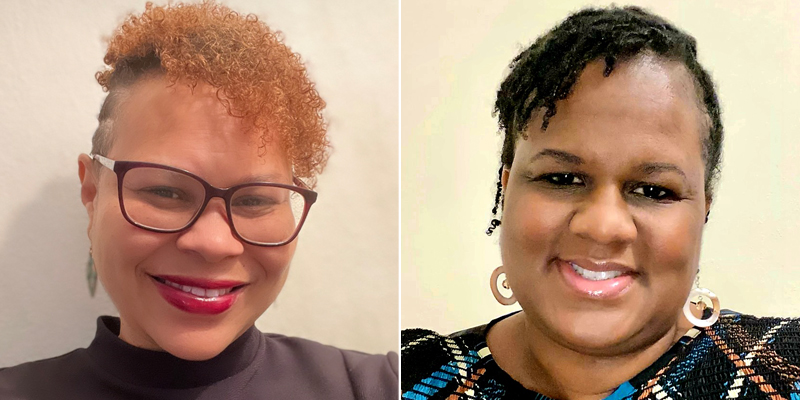 "The ladies have made a name for the organisation through a range of activities in the local and global business and the general community, leading on webinars, courses, and client engagements by promoting holistic data protection, innovative data management, and paving pathways to support a privacy boom industry [as described by the Privacy Commissioner] with self-study and Zoom-led data privacy, data protection and cybersecurity courses.
"They have trained a number of individuals from diverse backgrounds including lawyers, administrators, public servants and recent graduates on their Certified Privacy Officer course, the first of its kind on island, which also has the endorsement of Bermuda's Privacy Commissioner.
"The year 2022 has presented new avenues to further support organisations and individuals with Cha'Von moving to a key public service role to help Bermuda-based individuals and organisations with local and global regulatory compliance, including preparations ahead of the full enactment of PIPA.
"Cha'Von has stepped down from all roles at the TLC Group, and Taheera now manages the strategic leadership, direction, and management of the team based in Bermuda, UK, USA, and across the Caribbean as CEO.
"A multi-talented professional with over two decades of experience in operational efficiency, global data protection and risk management, policy development, privacy programme management, mentorship and coaching, career and training development, PR for community awareness and client relationship management, Cha'Von has a number of certifications that paved the way to her privacy career.
"Both ladies are strong advocates of holistic data protection, which includes data privacy, data protection and cybersecurity."
Ms. Joell said, "The values and pillars that provide a foundation for the TLC Group of Companies are firmly in place with Taheera as CEO, so it is with confidence that I embark on this opportunity to progress forward with supporting Bermuda's businesses and individuals with data privacy and protection best practices."
Ms Lovell said, "As a technology professional [specialising in cybersecurity] with over 20 years of experience, I adopted a holistic data protection approach when providing practical and strategic support to an international client base. In my new role as CEO, I am excited to continue working across both our data privacy/protection and technology/cybersecurity teams, and further develop our products, services, and training to meet the needs of our clients in a creative, sustainable and future-focused way."
The spokesperson said, "We wish Cha'Von much success in her new role and we look forward to providing quality support to existing, and new, clients in 2022 and beyond, with our vision of empowering individuals and organisations to identify pain points, develop sustainable creative solutions and foster an environment of ongoing monitoring, development and innovation.
"Visit www.thetlcgroup.pro or contact solutions@thetlcgroup.pro if you have any queries or are interested in receiving more details about our offerings."

Read More About