[Written by Stephen Wright]
Jasmine Spence had deserted her childhood dream of playing professional football long before she was offered a trial at Milton Keynes Dons Women.
The 23-year-old had not trained for more than two years when she nervously pulled on her boots ahead of her first training session for the MK Dons Women's Development squad in December.
Spence, however, had her experience as a former Wales Under-16 international and three years at the Mercer University in Atlanta, which she attended on a soccer scholarship, to call upon and impressed enough to earn a pro contract at the Buckinghamshire club.
She was an Assistant Programme Director at CP Athletic Development Academy, coaching football and futsal on the island when her Bermudian mentor Peter Rickards approached her about having a trial at the third-tier side.
Rickards, an MK Dons Sports and Education Trust programme coach, set up CP Athletic Development in 2012 and had known Spence since she was a youngster and believed she still possessed the ability to turn pro.
"I got a message from coach Pete in October asking if I could come to England for a couple of weeks," Spence told Bernews.
"My idea was to put some feelers out, and if there were no bites or takers, I'd return home and continue coaching. He got me an opportunity with MK Dons Women.
"I was a little nervous. Technically, it was my first training session in two years! I hadn't been consistently active since college.
"I was training with the development team, and I guess they must have liked me because they said they wanted to take me on."
Spence, who represented Bermuda Women's Under-17 when she was aged 11, played her first league match for MK Dons Women's Development last week, a 5-4 victory over Norwich City Women's Development; and is confident of forcing her way into the first team.
"I just need to get fit and stay healthy," the attacking midfielder said. "I've trained with the first team a few times and think I can play at that level.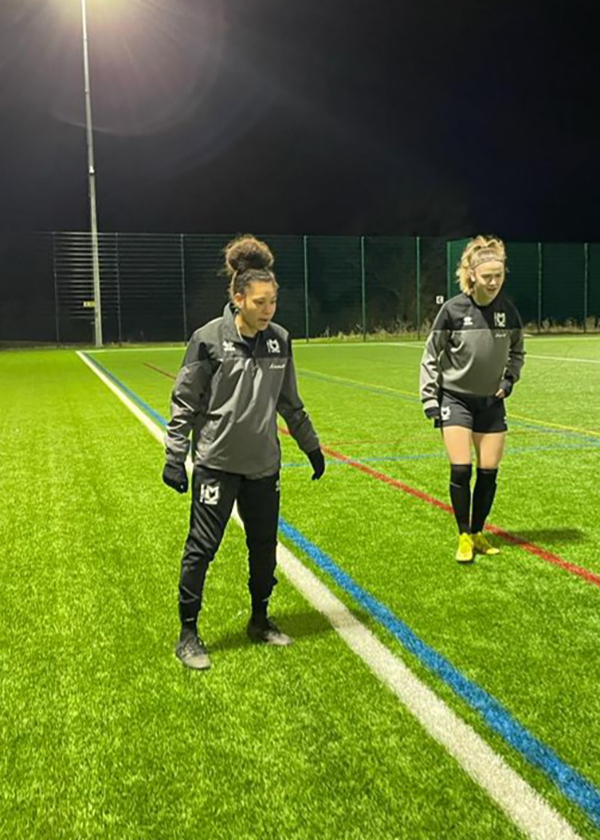 "I'm going to be patient, take my time and do this right."
Former Swansea goalkeeping coach Adrian Tucker spotted Spence's potential during a visit to the island in 2013 to run a coaching camp for the Bermuda Brazilian Football School.
When Tucker, now the England Under-18 goalkeeping coach, discovered Spence was eligible for Wales, he alerted the Welsh Football Trust, who watched her in action for her school, Montverde Academy in Florida, via a live stream.
Wales Under-16 selected Spence for the Bob Doherty Cup in Belfast, a home nations tournament involving England, Scotland, the Republic of Ireland and Northern Ireland.
"I was kicking a ball about one day at BAA Field when a guy came up to me and said, 'You have a good shot'," Spence remembers.
"I could tell he had an accent, so I asked him where he came from. He said he was from Wales, and I was like, 'Oh, that's crazy, my mom is from Wales.
"He was like, 'No way, which part? I said, 'Anglesey'. He asked me if I'd ever considered playing for the Welsh national team? I didn't even know that was a possibility.
"We had to go through the whole FIFA transfer process, and I won a cap at the Bob Doherty Cup.
"I haven't played for them since, but I have been in contact with the Wales talent ID guy. I hope to get back in the Wales picture now I'm in the UK."
Spence grew up playing boys football for local youth side United FC alongside current Bermuda players Milan Butterfield and Jahquil Hill.
She describes them as a "ragtag team" whose mishmash of players, often overlooked by Bermuda's top clubs, were moulded into a strong outfit by coach Casey Butterfield, the father of Milan.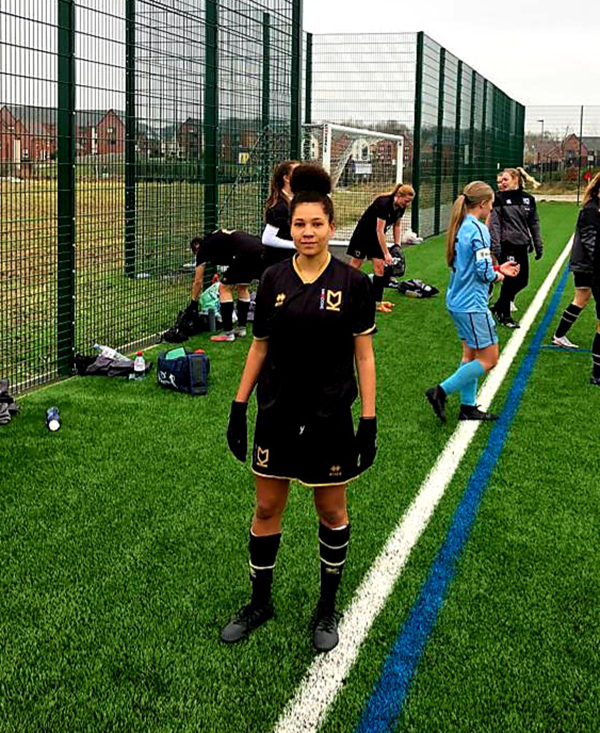 "I couldn't even play for a girls' team back then," the former Clearwater Middle School pupil said. "I was one of three girls playing boys football.
"All I knew was men's football. Reality hit me when I was 12 and I realised I would never play for Manchester United!
"I was like, 'Why can't I continue playing with the boys? I've been playing with the boys all this time.
"That burst my bubble, and for the longest, I was playing just because I enjoyed the game."
Spence admits she watched the meteoric rise of the women's game with interest but felt strangely reticent to return to competitive action.
She was eventually encouraged to "reach into her inner child" and rediscover her passion for playing by her mother, Annwen Stirling, and her former coach Rickards.
"I saw the women's game growing, but I was kind of away from that; I was not really for it at that point," she said. "I was like, 'Good for them; I'll just watch.
"My mom is big on having no regrets and said I might kick myself later on if I didn't at least try it. I could always return to coaching if things didn't work out.
"I think taking time off [from playing] was beneficial for me because I realised how much I missed it. I missed it a lot.
"Coach Pete has been a big part of all this. He's opened up opportunities for me as a coach and now as a player.
"For the moment, I'm out here trying my dream from when I was a small girl and seeing where it takes me."

Read More About