[Written by Stephen Wright]
Nahki Wells admits he was disappointed a loan move to Sky Bet Championship rivals Cardiff City fell through but is fully committed to helping Bristol City finish the season strongly.
Wells was subject to two late loan bids from the struggling Bluebirds, who are seventeenth in the league table, just four positions below City.
Championship sides Middlesbrough and Swansea City are believed to have also made enquiries over the availability of the Bermudian, who has started just five league games this term and is behind strikers Chris Martin, Antoine Semenyo and Andi Weimann in the pecking order.
It is understood City were only willing to allow Wells to leave Ashton Gate on a permanent deal.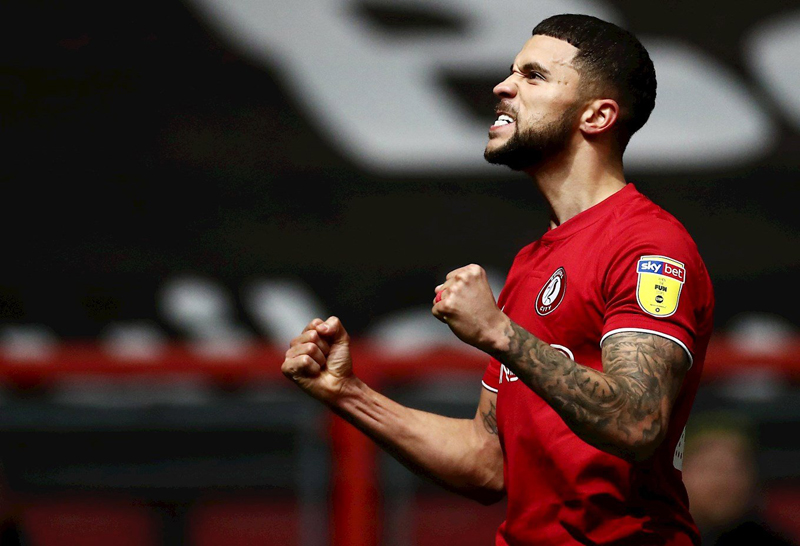 Wells is understandably frustrated by his lack of game time and said he "wants to feel loved, wants to feel cherished, and wants to be playing."
He told Bernews: "At first, I wasn't too keen on trying to leave [the club]. I was focused on playing hard going into the [transfer] window.
"However, circumstances didn't allow me to come on in games, so, naturally, it was disappointing. There were a lot of injuries and first-half substitutions, which impacted my minutes.
"It did push me to a place where I thought, 'If I can go out [on loan] and play, I'll do it. It didn't transpire. The club had other thoughts, and I accepted that.
"We're footballers at heart, and we're at our happiest when we're playing and doing well. I entertained it, and the club knew my wishes respectfully, but nothing came of it because of their approach to not wanting to lose me and because they would need to replace me. I'll just get my head down and keep working hard."
Wells has been linked with two Major League Soccer clubs, whose season starts on February 26, with English Football League rules allowing the movement of players of clubs to teams whose transfer windows are still open.
While the 31-year-old is focused on finishing the campaign at City, he said he remains open to opportunities in the US.
"I'm open to anything," he said. "There's always potential for something to be done if the interest is there and the opportunity is good enough.
"It's not like I've had MLS clubs ringing my phone and offering me things. I wouldn't say it's to that extreme.
"I've spoken to my agent, and I would like to get over to the US at some point in my career if it's the right opportunity. I'm just keeping my options open for the future.
"I'm a contracted Bristol City player, so I'm not really thinking about that sort of stuff."
Wells, who is under contract until 2023, scored twice for Bristol Under-23 against Cardiff Under-23 in a 3-3 draw yesterday (Tuesday) and said he feels as sharp as ever in front of goal.
"I'm a professional, and I conduct myself properly," he added. "That's why I put myself forward for the U23 game, to get some minutes under my belt and show the manager my approach.
"It was a good performance. I scored some goals and felt good fitness-wise.
"The irony is, it was against Cardiff, and I thought I could have been a Cardiff player hours before that.
"Physically, I'm still in my peak, and I genuinely feel like I'm in my prime. I don't think I've lost anything; everything is still there."
Although Wells believes he deserves more first-team opportunities, he insists he has no issues with City manager Nigel Pearson and praised the strikers ahead of him.
"I have a lot of respect and appreciation for the manager, and he reciprocates that," Wells said. "He's been as good as gold with me.
"It's just been hard because I don't feel as though I've had the opportunities I deserve, and when I have had opportunities, I haven't exactly set the world on fire.
"I'm definitely a confidence player. You get some players who are good at making an impact and can come in and out. That's never really been the case with me.
"I'm at my best when I've been able to play more frequently.
"I'm still optimistic. I've been in the game long enough to know things can change quickly.
"I understand the position I'm in. The players who have been ahead of me for most of the season have done well.
"A young lad [Semenyo] has come in and done really well and deserves to be playing."
Wells, who joined City for £4 million from Premier League side Burnley in January 2020, said he intends to review his situation in the summer.
"I know how the game goes; if things don't work out, we'll reassess things in the summer," he added.
"There's a lot of football left in me, and I have so much more to offer. I'm a proven Championship striker, and if I'm playing in the right set-up, I think I'll thrive."

Read More About