'Bikes Up, Guns Down' will be the message throughout a community day at Southampton Rangers Sports Club on Saturday [May 21].
The 'Bikes Up, Guns Down' event, organised by the Give Back Foundation, hopes to help curb the growing incidents of violence on the island while also promoting the positive impact of motocross.
A selection of motocross bikes will be displayed at the venue for youngsters interested in getting involved with the sport. The event will also feature free food, drinks and snacks, and a kids' corner, including a fun castle, snowball and cotton candy vendors.
Makinday Johansen, who co-founded the Give Back Foundation with Dion Smith, told Bernews: "There is a lot of gun violence right now. We felt like we needed to do something positive for the kids and give back to the community.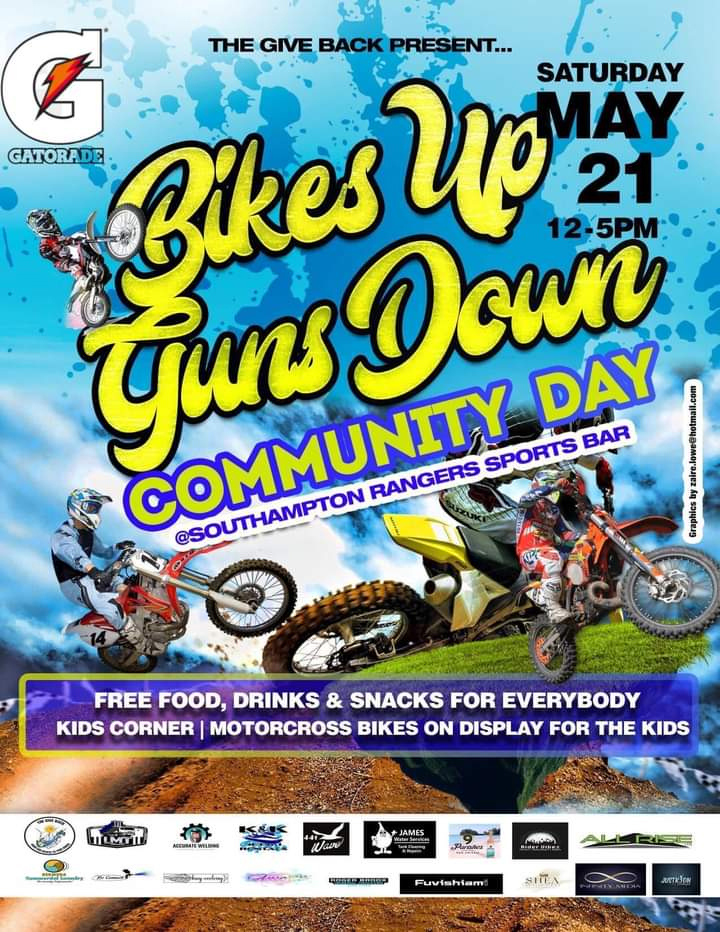 "We also want to show motocross in a positive light, so we came up with 'Bikes Up, Guns Down."
Johansen said Southampton Rangers Sports Club was the perfect venue for the event.
"Southampton Rangers often gets painted in a negative light, and people don't see the positive things the club does for the community," he said. "It's important to focus on the positives.
"The event is for all ages. We're trying to get the community together as a whole. We have to try and curb the gun violence [in Bermuda], but that's not going to happen overnight."
Jonah Smith will be among the top local motocross riders attending the event and believes youngsters are naturally drawn to motorbikes as the most common form of transport in Bermuda.
"This will be a great stage to promote positivity," he said. "Most Bermudian males typically like bikes. I feel that's one of the quickest ways to keep them out of trouble by getting them involved in motorcycling as a sport."

Read More About
Category: All, Entertainment, News