A event titled 'Be The Change' – aimed at men and teenage boys – is set to be held at the National Sports Centre's north field on Saturday [May 21] from 5.00pm to 7.00pm.
A spokesperson said, "A rally cry for adult men and teenage boys is being raised by the organizers of a free all-male event taking place at the National Sports Center, North Field, May 21, 2022, 5-7pm."
Paul Richards, one of the organizers of the 'Be the Change' event, said, "While there are many great examples of men thriving in our community, many things have happened over the last few decades that have negatively impacted the lives of boys, men, and their families. Gang violence, a lack of due care on the roads, economic challenges, substance abuse, crime and imprisonment are just a few of the obstacles that some teen and adult men must overcome.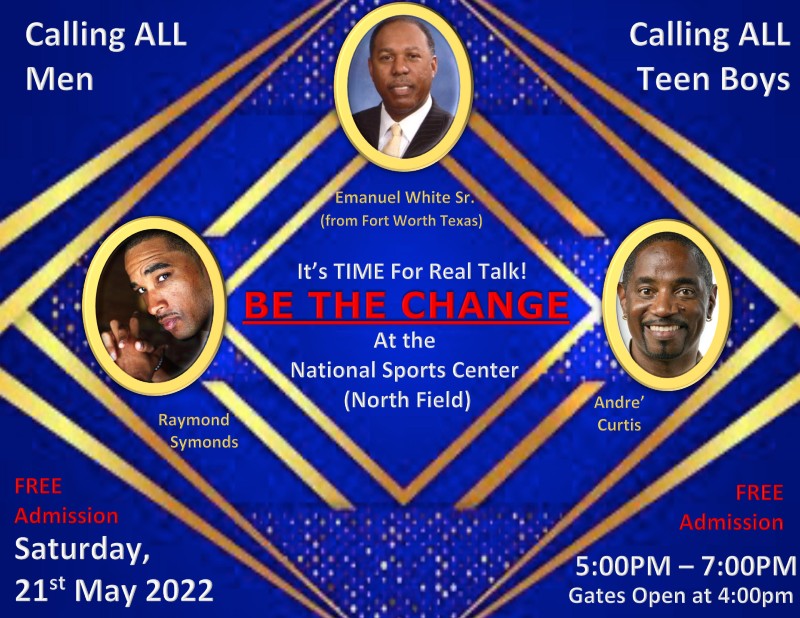 "The idea to have an event of this kind was sparked by a belief that if men could have an opportunity to be open with one another, and talk about 'real' issues, then positive change would occur! To facilitate that change, attendees will be encouraged to participate in the follow-up weekly Zoom meetings, focusing on how to develop a manhood plan. It is important for us to get past 'the talk.' It is time for real change.
"We need to rise in support of each other, and the next generation. An ambitious goal of reaching at least 2,000 men and teenage boys on Saturday, May 21st has been set. To get the word out, we have written to schools, faith-based leaders and community groups. We have also placed advertising in various media platforms, circulated and posted event flyers and had several media interviews.
"We are hoping that this will be a great pivotal event for Bermuda.
"In addition, attendees will be provided with tickets, identifying that they have attended the event. This ticket may be passed on to a school student who invited them to attend, and the student will then be eligible for a grub day at participating schools. Community service hours, for teen male students, are also available for students who volunteer with the set-up and break-down of the event.
"We are encouraging all men and teen boys to help start this important conversation and join other men and teen boys in the community who desire to work together to 'be the change.'
"For more information, please email bethechangebda@gmail.com."
Read More About
Category: All