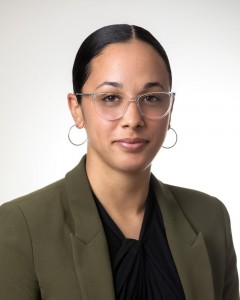 Eva Frazzoni has joined the Association of Bermuda Insurers and Reinsurers [ABIR] as a summer intern.
A spokesperson said, "She is one of 57 paid interns at Bermuda's leading insurers & reinsurers. The Master's degree student and Bermuda women's national team footballer will work with ABIR's Policy and Regulatory Affairs team.
"Frazzoni, 24, is studying for her Master's in Public Policy at the University of Essex in Colchester, United Kingdom. She holds a Bachelor of Arts degree in Political Science, with a minor in Psychology, from the College of Saint Rose, in Albany, New York.
"During her internship, Frazzoni's responsibilities include helping to facilitate the ABIR Intern Working Group and subgroups, made up of interns working with ABIR member companies this summer.
"She will support the intern group in organizing an event focused on environmental restoration or renewable energy. She will also lead the production of 'A Day in the Life of an Intern' vlog, a project of interns filming short videos at work to reflect their experiences."
Lynesha Lightbourne, ABIR's Assistant Director of Public Policy and Government Relations, said: "We're pleased to have Eva on the team and to give her this opportunity to gain insight into the island's international re/insurance industry. She is an impressive young woman, who is capable, enthusiastic and eager to learn. Her work will add value to the internships provided by our member companies, as the group works on initiatives relevant to the re/insurance industry and opportunities to network."
"Frazzoni has a strong, sports leadership background. She is captain of the Bermuda women's national football team and has also represented the island in junior tennis. Some of the qualities that have brought her success in sport will also be valuable in the workplace, she said.
"Sport has taken me to different countries, where I have met many people from a variety of backgrounds," Ms Frazzoni said. "I love the teamwork aspect, which is going to be important in any career. The role of captain has given me leadership skills: listening to people and being a voice for others.
"Re/insurance is the leading industry in Bermuda and I want to see if it's right for me. ABIR is a very welcoming environment and I've learned so much and met so many different people — it's already exceeded my expectations.
"As a trade organization with many member companies, working with ABIR will give me an overarching view of the industry and great opportunities to network. The internship was also attractive to me, because ABIR's work involves public policy, which I am studying.
"I had not realized there was a gateway for public policy in this industry. As I've learned from the interns at ABIR member companies, who are working in many different departments, there are many different career pathways in re/insurance."
John Huff, President and Chief Executive Officer of ABIR, said: "ABIR and our member companies are working to strengthen the pipeline of local talent, in line with our commitment to diversity, equity and inclusion. Internships play an important role in building relationships with Bermuda's future leaders and we're pleased that Eva is embracing this opportunity in Bermuda's leading economic sector."
Read More About