Top Spanish sports scientists, Elena Isla and Javier Mallo, recently provided local football coaches, conditioning coaches, trainers and physios with a 15 1/2 hour seminar hosted by FootSail ltd.
A spokesperson said, "The objective was to offer those working in team sports, or aspiring to work in team sports, with information that would enhance their understanding of sports conditioning and better develop local athletes. Securing Javier Mallo, who has plied his craft at Real Madrid, Manchester City and Atletico Madrid along with Elena Isla, the Club Doctor in the Real Madrid Academy and the Head of the Medial Department with the Spanish Basketball Association was a major coup for FootSail and for the local sports community.
"We applaud those who attended and offer our sincere thanks to our sponsors SkyPort, the Grotto Bay Beach Resort, Bio-Steel, Lucozade, Argus and Butterfield, whose sponsorship support helped to make this opportunity affordable."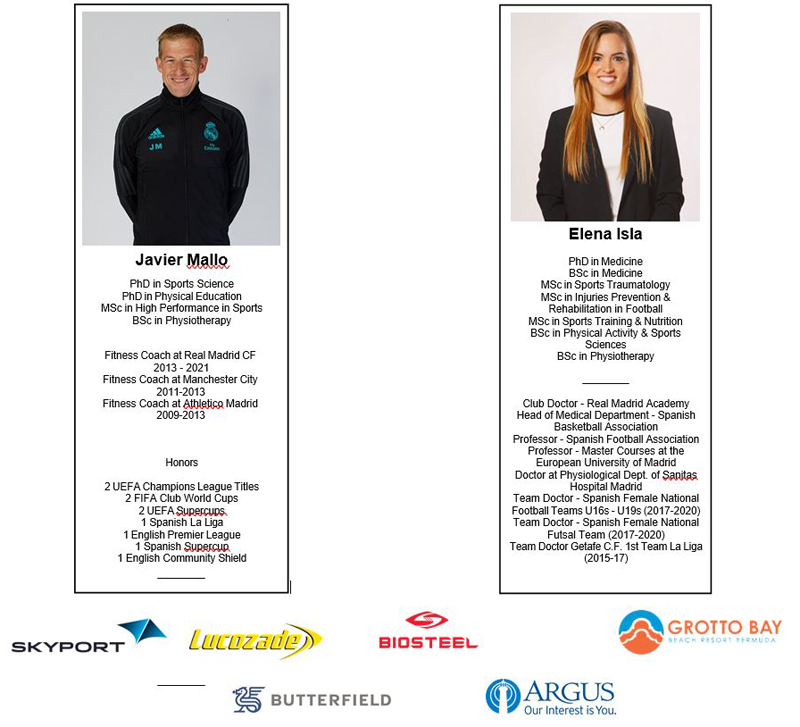 After the seminar, we caught up with Javier Mallo and Elena Isla and they were gracious enough to answers our questions:
1. How do you build buy-in with players who have little experience with performance/strength training?
"As the physical demands of competitive football have increased during the last several years [with more games played, more high-intensity running, more accelerations & decelerations] players have to understand that they need to build their bodies in order to cope with the demands of the game.
"Thus, it is essential to provide players with time [before or after training] and a place [ideally a gym, if not a room close to their dressing room] where they can start getting familiarized with gym/strength training. Nowadays, young or amateur players realize that the body shape of the footballers has dramatically changed [just see Cristiano Ronaldo, Sergio Ramos] so they have clear references that even top-class footballers need to develop the bodies in other to cope with the requirements of modern football.
2. How important is recovery [sleep and nutrition] during a long season?
"As the amount of games has increased over the course of the years, and more are more competitions are played [both at club and national team levels] it is essential to adopt strategies that facilitate recovery and help players maintain their performance during a long competitive period and stay injury-free.
"Today, it is clear that an adequate nutrition and sleep hygiene are the two most effective strategies to accelerate recovery. Fortunately, they do not require expensive material so they are must-follow recovery elements that every football player should include in his/her program.
3. How has the philosophy of conditioning in football changed in recent years [long runs vs higher intensity intermittent running]?
"Football conditioning has changed during the last decades from an athletic- based preparation to a football-based preparation. Years ago, athletics was used as a base to develop the fitness of footballers and, once the players had an adequate level in all the major capacities [endurance, strength, speed] they started to play the sport.
"Now, the direction is the opposite, players begin playing the sport and, by playing football, they develop the physical capacities. It is a major change in the training direction which is essential to respect specially when coaching young players.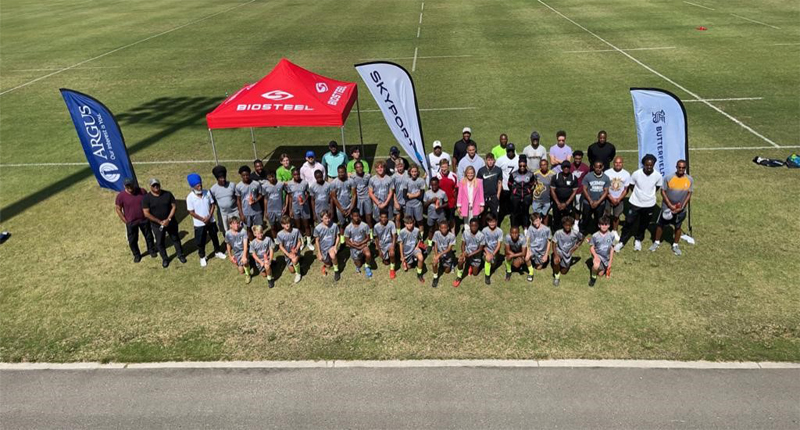 4. What are some key similarities/differences in training academy kids vs the first team?
"The main difference which we should take as a starting point is that kids are not small adults. Thus, everything we do with kids should be adapted to their age and development stage, and focused on providing them a holistic education, not only from a physical but also from a mental [values] point of view.
"Thus, football at an academy level should be focused on the development of players. At a senior level, especially at professional level, the word performance comes into place. At this stage, winning is crucial and thus, training is more focused on the collective demands of football, on improving the team coordination. Nevertheless, at both levels [academy and professional] football should be the epicenter of training. The same type of tasks can be used at both levels, but always adapting the constraints to the age of the players.
5. What are some considerations you need to be aware of when training female athletes?
"In terms of the technical and tactical tasks of football, female footballers respond in a very similar way, so most of the field training tasks can be done identically with both genders of players. The main differences are with the physical condition. Specifically, female players have different tissue properties and anatomy configurations, which are very relevant at the main joints of the lower body [hips, knees and ankles].
"We should pay attention when we are training females as they need a specific dose of strength and coordination training, as they have a four times greater risk of sustaining ACL knee injuries than male players do. Thus, injury prevention programs must be included in this population of sportswomen.
6. How would you adapt a training week to players who work full time and have different types of jobs [sedentary/manual labour]?
"It is very important to know what players are doing in the course of the day before they arrive to the training session. Again, this is not only critical from a physical [standing all day, carrying weights, etc.] but also from a mental [job stress] point of view.
"Football training in the afternoon should be a leisure activity and, as coaches, we should reflect about this and provide the players – especially those who are coming from hard jobs – with a joyful activity. We need to develop our empathy and understand how the players are feeling and be able to adapt the sessions to the mindset of the players.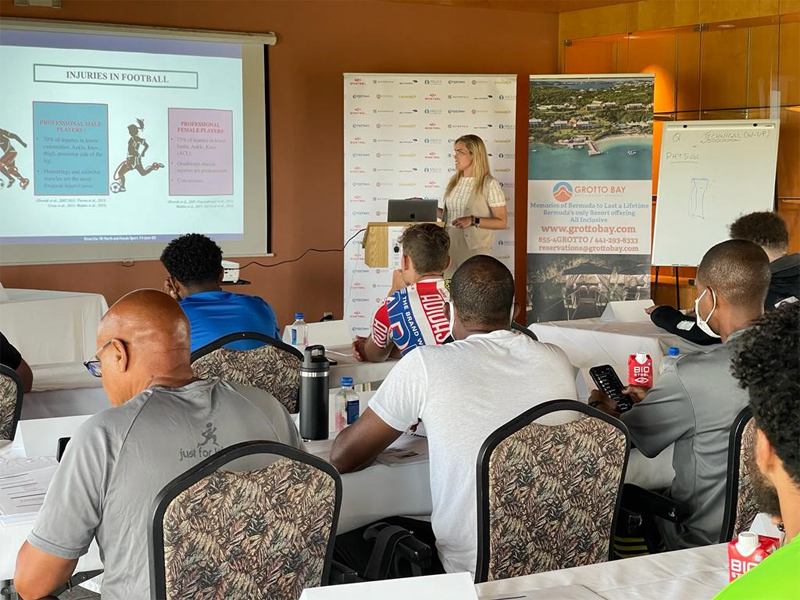 7. Discuss the importance of the conditioning coach knowing the sport they are involved with
"In modern sport, conditioning coaches cannot live away from the sport, the same as the physical dimension of the player cannot be conceived in isolation from the other body structures. Thus, we are all integral football coaches, we cannot train independent parts of the body and expect things to be added in the ultimate stage.
"That is not how things occur in nature. We are surrounded by complex phenomena and, thus, we must conceive players and the sport as complex dynamical systems which need to be studied holistically. Conditioning coaches must know about the sport they are working in.
8. What were your expectations and what can be done to improve on this seminar?
"The idea of coming to Bermuda was to present a different approach to football [and team sports] training. We did not want to present a better way of training, just what we thought was a different way to do things or, at least, show different elements than those typically presented in regular coaching courses.
"The participants were extraordinary and they helped us to raise the level of the course. Personally, we think that including more coaches from the Bermuda community [especially those in charge of BFA programs], could help generate interesting debates about how football training should look in the next years.
9. Most amateur clubs in Bermuda cannot afford a full-time club doctor; what advice/direction should they give their players on how to interact with their family physician and physiotherapist? Should annual physical examinations be mandatory?
"Before practicing any competitive sport, it is important to have a physical examination which, ideally, should be carried out every year at the start of the season. This exam should try to address any major pathology in the player and should include basic echocardiography, respiratory and anthropometric assessments.
"Complementary blood tests should be carried out at this point to determine the players general state of health and if some type of supplements is needed. We think that a basic medical examination at the beginning of the season in very important to make sure that it is safe for young players to practice sport during the year.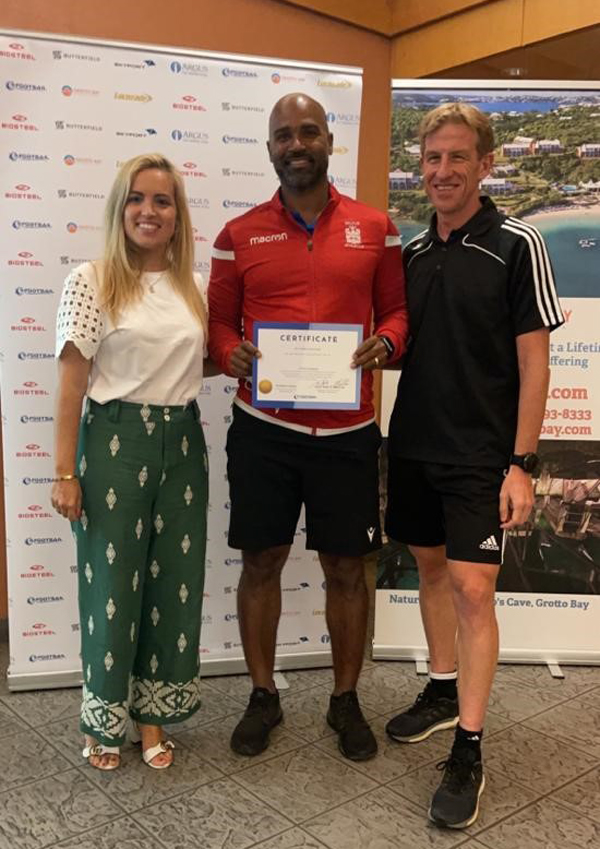 10. Water vs sports drinks: what roles do each play in football/sport
"It is important to drink water throughout the day [ideally 3 litres per day in an adult] as it is essential for our body process and for the elimination of waste substances through the kidneys. Thus, we should be adequately hydrated all day long.
"When we practice sport, this is even more important as dehydration is a major element which can impair performance, so we should be drink around 250 ml of water every 20-30 minutes when we practice sport. When the weather conditions are more extreme [more heat, more humidity] than we not only need water, but also some minerals in the drink [such as sodium, among others].
"When we are sweating, the body not only loses water but minerals, so we need to put those minerals back into the body to ensure adequate cell functioning. In addition, if we are taking part in a long duration sport, such as football, the liquid also needs to contain some kind of carbohydrates, to keep adequate glucose blood levels. A clear of example of dehydration and loss of the fluid balance is the appearance of cramps in the last phases of a match. An adequate recovery drink [at half-time or during the second half] can help reduce the risk of these cramps.
11. Most amateur clubs/athletes don't have access to a gym; provide some examples of how they can adapt.
"Nowadays we have plenty of functional training material [bosus, togus, fitballs, medicine balls, mini bands, elastic bands…] that can be used in training sessions for activation and football-strength training.
"We don't believe in the classical body-building oriented gym machines for football training, they are mostly used for the development of individual muscles and in football we need to develop movements and not muscles. It is much less expensive and more effective for a football team to buy functional strength training material, which can be used both in an indoor facility or on the football field.
12. Conditioning training with the ball; provide some examples of how specific drills can simultaneously achieve tactical, technical and conditioning objectives.
"In order to provide holistic training stimuli in football, I like following this progression [from less to more specific]:
Boxes [from 4v1, to 6v2, 8v2…] We can add physical constrains to the drill if we want to make it more intense [i.e. if you lose the ball you have to run 20m and then go into the box…]
Small sided possessions [Three teams: 4v4 in a square + 4 floaters in the outside]. Keep possession [8v4] and count the number of ball recoveries in 1 minute.
Larger side possessions. [i.e. 10v10 in 40x40 m; if one team completes 10 passes the other team has carry out a 6" sprint and then the tasks continues]
Positional games. [i.e. 8v8 and each team attacks 3 small goals in each end > aim using all the width in attack].
13. Explain why it's important for conditioning coaches to create their own philosophy through continuous education and discovery of concepts that make their program stronger and current.
"One of the most important things for coaches, as educators, is to constantly reflect about why we are doing things. Thus, we should always challenge ourselves and see how other coaches are training, what drills they are doing, and especially try to understand why they are doing them. It is very important to get as much information as possible but, this information must be translated into knowledge, and this a process that needs our reflection.
"We have to continuously assess why we are doing things and our coaching book has to be continuously updated. We need to develop our identity as a coach but we have to be able to detect opportunities to improve our strengths, in order to provide the best training situations as possible for our players.
14.Explain the impact that growth spurts and development have on sports performance and injury risk
Provide recommendations for monitoring and supporting growth
What are the signs of growth spurts [besides the obvious increase in height]
Provide examples of some common injuries related to growth spurts
"When we are dealing with young players, especially at ages were they experience their greatest changes in terms of growth, it is important to track their height at least every 3 months. We can measure their standing height and their seated height, to have references about what growing phases are the players in, because this has an impact on their physical performance.
"The ideal situation would be to have a scan of their wrist to predict their future stature, but this is a solution that is restricted to few clubs around the world.
"As coaches, we need to know that coinciding with these growth spurts, there is a loss of coordination in the players [the body grows faster than their ability to coordinate it] and there is a subsequent increase in injuries [indirectly because of the reduced ability and directly because not all of the parts of the body grow at the same speed].
"Thus, we can find some typical injuries in players during these periods, such as fractures in the radius [greenstick fractures when a child falls and tries to break the fall with his arm], the Osgood-Schlatter disease [pain and swelling below the knee joint, where the patellar tendon attaches to the top of the shinbone [tibia], a spot called the tibial tuberosity] or Sever´s disease [painful condition of the heel]. In addition, we can also find some additional muscular or tendon injuries due to decompensation in the muscular forces around a particular joint."
"Several participants offered feedback after the seminar."
Liam Evans, Director of Strength & Conditioning, FC Bascome, said, "Overall, I thought that the experience was invaluable. It was great to hear how things are done at the top level, both with the first team and the academy. I took a lot from this experience, especially understanding how I can integrate Strength & Conditioning aspects into actual football drills and how to manipulate them based on the adaptations I am trying to elicit. I am very thankful to Javier and Elena for taking the time to come here and provide us with some great information."
Devarr Boyles, President-Western Stars Sports Club, said, "After having the unique opportunity to attend a seminar by Javier Mallo, involving classroom and on the grass experiences, I was pleasantly surprised by the flow and tempo of football specific fitness. I thought that I was going to be enlightened on periodization training which I did obtain along with an increased awareness of the warm up, recovery activation used during periodization. I just wished more coaches would have taken advantage of this opportunity. Thanks Javier."
Thaaqib Talbot, Youth Technical Director at X-Roads Warriors FC, said, "I thoroughly enjoyed the coaching seminar put on by high quality subject matter experts who work at the highest levels of world football. The information that was presented, both theoretical and practical will benefit all the coaches in attendance and as a by-product will improve the quality of instruction that is delivered to players in Bermuda. I look forward to the next seminar put on by FootSail."
Anthony Raynor of RunBermuda said, "The seminar hosted by FootSail Ltd., could only be described as eye opening. Javier and Elena presented a comprehensive look into the training philosophy of one of the world's most successful football clubs, 14 times European Champions, Real Madrid FC. Attendees were given an overview into the culture nurtured at the club and how various departments within the club align in support of a singular objective. All of the information presented is relevant to the game in Bermuda and our development and I look forward to the next seminar hosted by FootSail Ltd., and in particular, what's next from Javier and Elena."
Apex Physio-Senior Physiotherapists, Julesa Robinson and Kiwon Williams, said, "Javier and Elena's Seminar was a professional workshop and well put together. The information presented from the seminar can surely aid in the progression of the local and national football teams that we work with."
FootSail are now looking at hosting the pair again in 2023.

Read More About