[Written by Dale Butler]
The Bermuda Musical and Dramatic Society [BMDS], operating since 1945, is described on its Facebook page as "a magnet to those who enjoy music & drama. Whether as performers, technicians, or an audience members have found BMDS to be the home of amateur theatre in Bermuda."
It is centrally located at "Daylesford", corner of Dundonald & Washington Streets, Hamilton HM 09, and just a stone's throw from City Hall and its Earl Cameron Theatre. Upon entry you will see the passion they have had since 1945 to bring a variety of plays to Bermuda, and a review of their history will highlight numerous amateur performers who dared to tackle award- winning international plays and those authored here on the island.
Reviews indicate they survived and deserved their standing ovations and praise. I agree 100%, based on my own attendance. Without knowing, you would be amazed at the dress, lighting, staging and flawless acting and find it hard to see a difference between them and Broadway productions. Productions are always professional and should allow them a place in history and a designation as a theatre museum.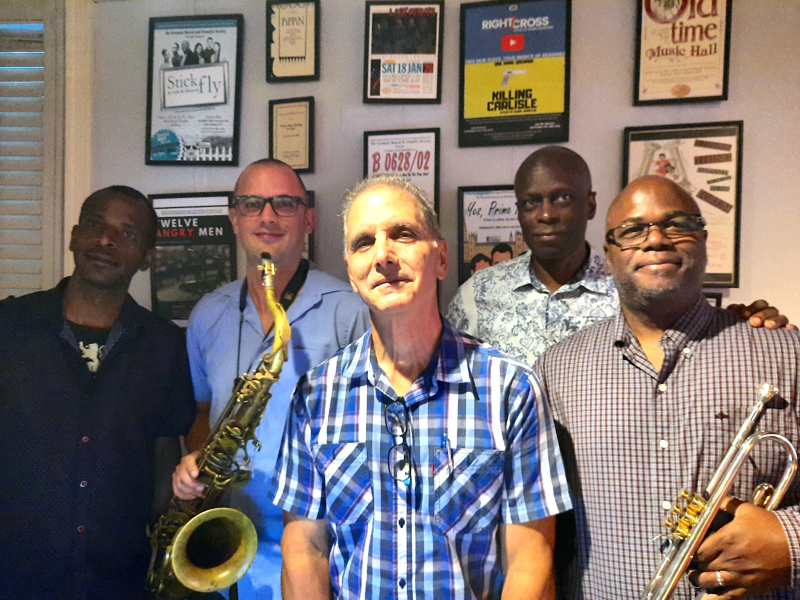 I have always been impressed with the events I've attended and on Thursday, June 2nd I had the opportunity to spend time in the Daylesford Bar for a free concert by Tom Ray and Friends. With an eager audience, dying to get out and relax, and a band of experienced musicians one could not have asked for a more centrally located venue—intimate enough to socialize and enjoy live music.
Recently recognized for his numerous performances in Bermuda, Tom took to the Hamilton Princess Hotel stage to receive an award from organizer and saxophonist Wendell "Shine" Hayward, CEO of Danji Productions, during a spectacular evening of jazz at the hotel a few weeks ago.
Tom is a graduate of the Berklee College of Music in Boston and upon graduating found himself performing in Bermuda with the Doug Frith Band at the Castle Harbour Hotel where guests loved to dance a lot of Rumbas, Quicksteps and Foxtrots. He earned his spurs with additional nightclub work with some of the greats of the day like the Bermuda Stealers and Happening Bda.
With Oscar Peterson, Ella Fitzgerald and Miles Davis in his veins, among others, Tom on piano, blended in very well with:
Stefan Furbert: drums [a great drummer in the being of Tony Cox].
John Lee: bass [of The Unit and 2009 performance with his band at the Havana International Jazz Festival].
Kent Hayward: trumpet [Executive Director - Bermuda School of Music].
Eli Cagen: saxophone [Colorado State University, Saltus Grammar music teacher].
The band was relaxed as they played the following songs to a very appreciative audience:
Bags' Groove
C Jam Blues
Watermelon Man
Filthy McNasty
Icing was added to the cake by each singer:
Sheila Smith: One Note Samba & Bossa Nova – a sterling presentation that had an intimate relationship with each song.
Alan Brooks: Fly Me to the Moon – he has a great voice and did not disappoint his fans; and with Sheila, They Can't Take That Away from Me -great harmony that connected them to the audience.
Jenn Osmond-Campbell: Our Love Is Here To Stay – she has a beautiful voice and great stage presence
John Dale: Everybody Loves Somebody and You're Nobody Till Somebody Loves You – multi-talented with a great voice that has given him a large repertoire which delights audiences.
The BMDS calendar is packed with a variety of activities worth attending. No doubt after a successful night of instrumental music and song, jazz will be back. I commend Tom Ray, the band and singers, for bringing it all together.
- Dale Butler is the Professor of Local Music and also writes restaurant, book and dance reviews for Bernews

Read More About
Category: All, Entertainment, Music