The students and crew aboard the Spirit of Bermuda have now departed Turks and Caicos, beginning the more than 800 mile journey back to Bermuda.
The trip — entitled 'In the Wake of Mary Prince' – includes history lessons from Dr. Theodore Francis, who previously explained to Bernews that they are "using the story of Mary Prince, an enslaved Black Bermudian woman who was born in Bermuda, transported to Turks and Caicos, returned back to Bermuda, transported to Antigua, and then eventually travels to England."
The students and crew before departing Bermuda earlier this month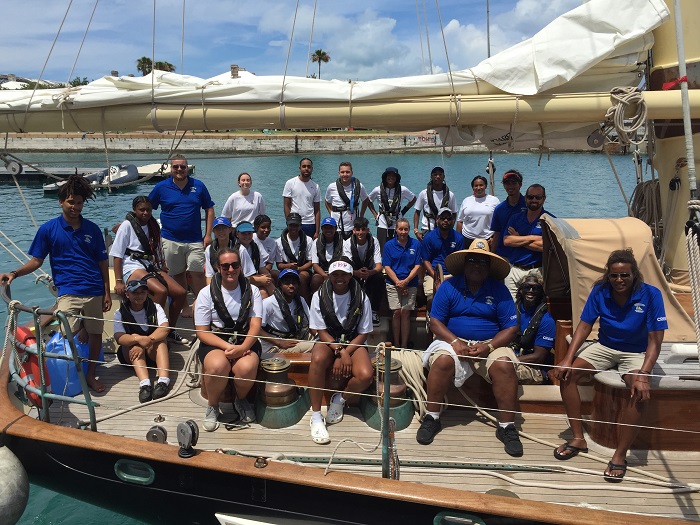 The Government provided $7,000 towards the initiative, with Minister of Youth, Culture and Sport, Dr. Ernest Peets Sail saying, "The Spirit of Bermuda, a replica of an historic Bermuda sloop, will provide an excellent backdrop for all onboard learning.
"This special voyage, highlighting one of our National Heroes, Mary Prince, will explore Bermuda's unfettered history, and the journey and lessons that will be shared by Dr. Francis will help bring to life the history of Mary Prince.
"So we are very pleased to be part of this initiative, which will help support Dr. Francis and our young Bermudian students as they undertake this exciting training expedition to the Turks & Caicos Islands."
A view — filmed by a student — from onboard the Spirit during the journey
After the Spirit left to start their journey back home, Captain Alex Peacock provided an update on the journey, saying, "Grand Turk is officially out of sight, the waves are up around 8-9 feet and wind ESE at 20 knots, allowing Spirit to make a easy 10 knots of boat speed. It also appears that we have a significant break from the squalls, which is appreciated.
"We are grateful for the hospitality the folks in Grand Turk offered Spirit and crew. Personally, and I know I speak for all the Spirit crew, I am very happy to a part in keeping the connection and ties between the two islands ongoing.
"Sailing is always a good metaphor for life and a good metric to see what one is capable of when faced with adversity. Despite these challenges, I feel that we have become a close family which, historically, shipmates were considered family in the true sense. I am excited to continue sailing with our young trainee crew and enjoy witnessing the lessons learned and individual growth on many levels.
"The weather is expected to go light late tomorrow for 24 hours, so we are putting it in the bank now. We are hoping to be back on Friday the 15th."
Read More About