The Bermuda Tourism Authority [BTA] today released second-quarter tourism measures, stating that "while there has been significant upward movement from the lows of the past two years, on most measures, there is still a way to go to meet pre-pandemic numbers."
A spokesperson said, "The report highlights gradual recovery in all categories and the silver linings, including spikes in yacht visitation, vacation rental recovery, and hotel revenue growth.
"Bermuda welcomed 33,264 vacation and leisure air visitors in the second quarter, 48.2% below the volume seen during the same period in 2019: nonetheless, a welcome boost to the sector, more than doubling 2021 numbers. Total vacation and leisure visitor arrivals [including air and cruise] totaled 156,277 visitors for the period.
"While the pace of US and Canadian visitation numbers align with the overall leisure arrival figures, UK leisure numbers have moved more quickly towards 2019 measures showing just a 23.2% decline over 2019.
"The growth in the UK market may be attributed to several factors including the gateway shift to London Heathrow, intensified marketing focus for the UK and European markets, and the UK government's hastened return to pre-pandemic normalcy.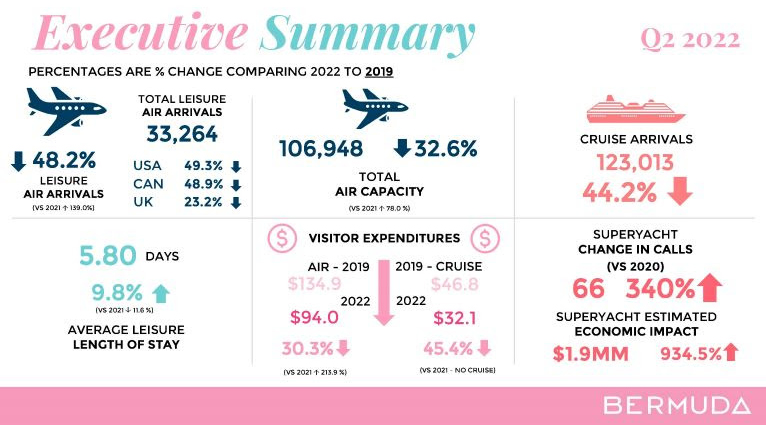 "Measures for visitor arrivals and visitor expenditure are linked, so it is unsurprising that lower visitor numbers have borne lower overall visitor spending. Estimated overall air visitor expenditure was down by 30.3% over 2019.
"The good news is that per person spending for air leisure visitors was up by nearly the same percentage at 32.3%. This indicates that today's leisure visitor provides more value to the economy pouring more [$2,030 pp] into Bermuda businesses than they did individually in 2019 [$1,534 pp]. The extended average length of stay year to date shows that Bermuda's leisure visitors are booking vacations that are 11.4% longer than in 2019.
"As global travel has opened, and families and friends seek to reconnect after two years of pent-up desire, family-centered travel has re-emerged. Destination weddings have seen great upward movement since the significant reduction of the category in 2020, moving to 32.3% below 2019 levels. Similarly, visitors, who have self-reported the purpose of their visit as visiting family, friends, or relatives [VFR] have seen a strong recovery with 6,197 visitors 27% below 2019 levels.
"After two years of virtually no cruise activity, the cruise sector made a solid showing in 2022 Q2 with 123,013 cruise arrivals, 44.2% down from 2019. All indications point to continued growth in cruise visitors to Bermuda in 2022.
"The BTA Maritime Strategy has delivered big wins for Bermuda in Q2. With the return of the well-established sailing races from Newport, and Annapolis, SailGP's season three opener, and Bermuda's host port status for the Clipper Round the World Race, yacht passenger arrivals have exceeded 2018 and 2019 numbers.
"The report highlights the steady growth in superyacht calls to the island, which counted 66 superyachts in the second quarter, soaring past the number of calls recorded in 2020 when the superyacht legislation first opened Bermuda up to the luxury charter vessels. A key measure of success is the estimated economic impact of superyachts which spiked to $1.9 M between April and June 2022 bringing the year-to-date total estimated economic impact to $2.3 M.
"The vacation rental category has shown strong performance with 74.2% occupancy in Q2 averaging more than a week in the length of stay. The category has given local homeowners a new opportunity to participate in the tourism economy and it has reaped rewards, delivering 19.3% growth over 2019.
"The hospitality sector bore the brunt of tourism's economic challenges wrought by the pandemic. However, Q2 accommodation statistics have revealed good news for the hotels that were able to remain open in 2022. While hotel occupancy has lagged 2019 figures by 11.8%, revenue per available room [RevPAR] has exceeded 2019 numbers by 16.5%. What's more, with hotel daily rates [ADR] up by 32.1% over 2019, hotels are beginning to see a silver lining."
"As a data-driven organisation, we look forward to regularly sharing our quarterly reports with our stakeholders and the wider community." Said Tracy Berkeley, interim CEO, "This report reveals growth opportunities, identifies low-performance categories, and highlights evolving trends. Our team has been focused on executing our strategic tourism recovery plan, and while we won't see an immediate return to 2019 figures across the board, we are encouraged by incremental gains across all measures and the progress towards our objectives."
"Bermuda Tourism Authority publishes quarterly tourism measures and annual reports which are available on the BTA corporate page on the GotoBermuda.com website."
The full Q2 2022 Tourism Measures Report follows below [PDF here]:

Read More About