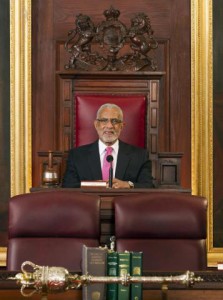 Front Row Soccer has featured a story about Randy Horton, calling him "Cosmos' first scoring sensation."
The Front Row Soccer story says, "At first glance, he looked like one mean, intimidating dude. Randy Horton was all of 6-2 and 200 lbs. Add an Afro and a nice full-face beard and the native Bermudan certainly looked like someone you didn't want to deal with on the soccer field.
"In soccer, every little bit helps, and that includes talented strikers as well and if Horton's appearance made an opposing center back think twice about doing any rough stuff, then so be it."
"It made me look like I was 6-5, much taller and I think sometimes with all my hair on my head and all that made me look like somebody that's really rough. I was really a gentle giant," Horton said with a laugh. It certainly didn't hurt.
"Horton was the Cosmos' first scoring sensation, earning rookie of the year honors in 1971 before securing MVP honors in 1972, the first of the club's eight North American Soccer League championship sides."
"They gave me a lot of attention, these center backs," Horton said at the NASL's 50th anniversary celebration here in October. "Some of the people in the league I grew nice relationships with, some of the guys who actually defenders, gave me rough times, even on the field. I think that's the beauty of this game as well is that when you play the game, you don't only have relationships with players you play with, but when you play against quality players, we recognize those good players, whether they are on your team or whether against you.
"The greatest thing that happened to me was when I was named most valuable player in 1972 and the reason for that was the players selected who they thought [was MVP]. My team couldn't vote for me. But all the players on the other teams could vote. They thought I was good enough. The players' respect you for what you did, the guys you play against. That was the biggest compliment that I ever had."
"Horton, now 73, played with the Cosmos through 1974, connecting 29 times in 52 matches, before he was traded to the Washington Diplomats in 1975. He closed out his Cosmos career with the Hartford Bicentennials the next year.
"After retiring, Horton's second act was quite impressive in its own right. He joined the House of Assembly of Bermuda in 1998."
You can read the full story here on Front Row Soccer.
Read More About