[Updated with video] "Clearwater Middle School students produced a captivating film about the life and legacy of Mary Prince and the Ministry is delighted to recognize the extraordinary creativity of these young minds," said Minister of Education Diallo Rabain.
A Government spokesperson said, "Under the guidance of their Social Studies Teacher, Ms. Shimane Furroze, several M1 – M3 students created an original piece called The Mary Prince Movie, a black and white film that was written, produced, directed and acted by the students.
"Students participating in the film included, Kamila Simons, Arianna Woods, Sekret Hill-Waldron, De'Arrie Inserra, Etana Holdipp, Ariah Peets, Callae Foggo, Keeliah Canies, Jazamine Borden Everett, Santiago Almedia, Tarryn Mathie,, Nazari Butterfield, Na'Quhaj Craine, and Unas Woolridge."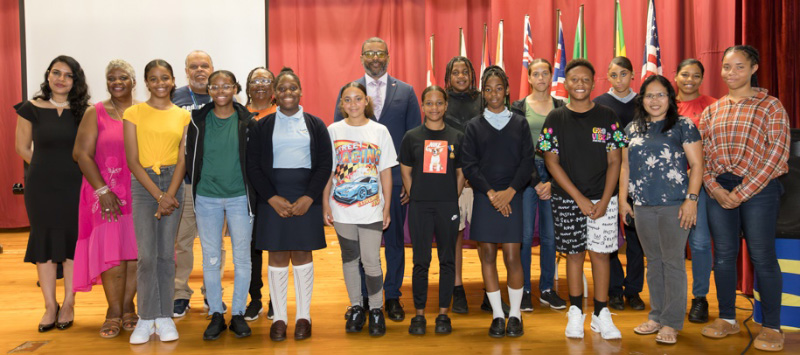 Ms. Furroze said, "It's such a pleasure to encourage our young people to learn more about Bermuda's rich and diverse history. M1 student Kamila Simons embodied the role of Mary Prince in the film, and she persevered in learning and rehearsing her lines to make her role realistic. She was supported by her equally passionate classmates who all worked together to not only showcase their talent, but to create something that was unique and told from their own perspective."
Minister Rabain concluded, "Our students embarked on an exploration of history that highlighted the impact of one of Bermuda's National Heroes – Mary Prince. They reimagined and reenacted the life of Mary Prince and deserve to be commended for their film's contribution to fostering an understanding and appreciation of Bermuda's rich history.
"I am certain that Clearwater Middle School's original production of The Mary Prince Movie will inspire future generations of young people, and we hope this project will ignite more young people to take bold creative steps such as this."

Read More About
Category: All, Entertainment, Films/Movies, News