CariGenetics is sponsoring the St George's Cricket Team for the 2023 Cup Match Classic.
Founder and CEO, Dr Carika Weldon, shares why it was important for her new company to sponsor the club, saying, "While I am a die-hard St. George's supporter, Cup Match has such great historical value to me.
"CariGenetics is a grassroots genetic research company founded by a Black Bermudian female. I wouldn't be able to do this if it wasn't for our ancestors who fought for emancipation. I will never lose sight of that."
Dr Weldon continues: "I'm standing on the shoulders of Mary Prince and all of our Bermudian ancestors who fought for this holiday.
St George's captain Onias Bascome, Dr Weldon, SGCC President Neil Paynter: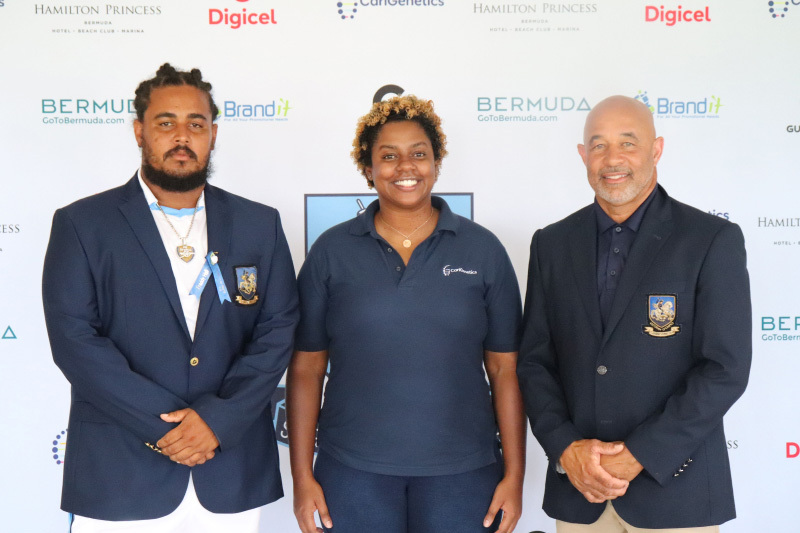 "CariGenetics was created by a Bermudian, has a fully Bermudian staff and is for the benefit of Bermudians. I want to show that although we are in our infancy stage, we can support our biggest cultural event. We are proud to be in a position to do it and I encourage other local businesses to support Cup Match in the future."
St George's Cricket Club's President, Neil Paynter, expresses his gratitude with CariGenetics' sponsorship. "I would like to thank CariGenetics for its contribution to what will be undoubtedly an exciting two day event. We are looking forward to great cricket and a great atmosphere."
Dr Weldon is also inviting members of the public to visit the CariGenetics' hospitality camp at the club.  She said, "We will be offering complimentary swizzle to our guests with our curated swizzle bar with flavours matching our brand colours and if you know me, you know that I love karaoke almost as much as I love Cup Match, so I am pleased to announce that karaoke will be available during the lunch break on both days, hosted by Nadanja. We also have a free charging station and limited edition Cup Match electric fans. Come join us and have a great time!"
The spokesperson said, "In the spirit of Cup Match, CariGenetics will be giving away 1 ticket for the opening day holidaymakers who want to attend the match.
"It's easy to win! Simply follow the CariGenetics social media channels, like our Cup Match post and comment with your fondest Cup Match memory. The winner will be announced on Wednesday afternoon via our social media channels @CariGenetics."

For extensive coverage of Cup Match spanning over a decade, visit our website BernewsCupMatch.com, the island's most comprehensive resource on the Cup Match holiday.

Read More About