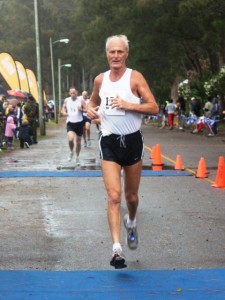 Some of the lesser lauded names are often the biggest winners. Although he finished 2.5 hours after winner Chris Estwanik, it cannot be said that Howard Outerbridge didn't win. The 78-year-old was the oldest runner competing today.
The same goes for 77-year-old Francis Deroza, 73-year-olds George Jones and Quinton Mallory, as well as many other entrants today.
When speaking of our seniors in the race, one cannot forget to mention former May 24th champion Ray Swan, who won the race twice decades ago. Presently 72-years-old, he finished in a highly impressive 171th place out of 724 total finishers, in very credible time of 1:46:56.
67-year-old Antun Duzevic, the age group record holder, won the category finishing in an impressive 1:39:18.
They say apples don't fall from the tree, and this family proves it. Peggy Couper, the mother of 2010 winner Ashley Estwanik, won the over 60 category in 1:54:26. Like her daughter, Mrs Couper holds the record for her age group.
The over 50 categories were won by Sylvester Jn-Pierre and Barbara Clemens. The juniors were won by 16-year-old Trey Simons who finished in a very impressive 15th overall, and 17-year-old Emily Dunne.
In the Heritage Day Junior Classic Road Race the age group winners were Messiah Greaves [9 yrs], Zakiyyah Showers [11 yrs], Rayni Maybury [15 yrs], Evan Heyliger [10 yrs], David Darrell [12 yrs], Juma Mouchette [15 yrs]
724 runners finished the adult race, a grueling haul from Somerset to Hamilton. Congratulations to them all.
Read More About