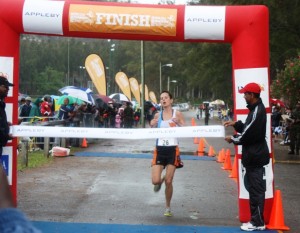 Following her husband Chris's lead, Ashley Estwanik just won the 2010 May 24th Marathon female division setting a new record in the process. Mrs Estwanik took an early lead from Somerset which she never conceded throughout the whole route. She set a new record of 1:21:58, slashing approximately 90 seconds off the old record, which she herself set in 2008.
This is the second time a husband/wife team has won in the same year, with the Estwaniks being the first to do so in 2008. Mrs Estwanik did not compete in 2009 due to pregnancy. Both Estwaniks ran this year as part of Team Hope, a charity that supports special needs children. Both Estwaniks now hold the May 24th records.
Mrs Estwanik represented Bermuda at the 2006 Commonwealth Games in Australia, where she made the finals and set a new Bermuda record of 4:10:48 in the 1,500 metres.
Victoria Fiddick, the defending champion, was the second female across the line, and the first master. Karen Bordage was 3rd, and Jennifer Alen was 4th. For the full results click here.
We will update with full results as soon as they are available. Follow our up-to-the-minute May 24th Holiday coverage here, where we are providing live updates all weekend.
Read More About