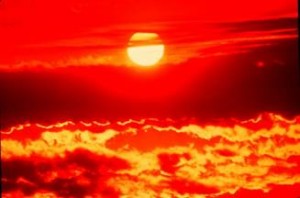 Many locals are complaining about the heat today [July 15], and amongst them is escaped suspect Alvone Maybury who posted on his Facebook account at 11:30 this morning that he "I'ma turn myself in later 2night, its to hot to come outta my hole ritht now." Mr Maybury had told both Bernews and ZBM yesterday that he planned to turn himself in today.
The Bermuda Weather Service says today's high is near 29°C/85°F, and that tonight will be a low near 26°C/79°F.
24-year-old Mr Maybury escaped from prison officers in a dramatic daylight break outside of Magistrates Court on July 13. He was being brought out after facing firearm charges and just took off running at high speed up Parliament Street while still handcuffed with Prison Officers giving chase. The Police immediately set up a large scale manhunt, focusing initially on in the North Hamilton area.
The news that Mr Maybury was posting on Facebook was first broken by Bernews at 9:30am yesterday, picked up by other local media hours later, and then picked up by the international media late evening.
A special task force has been established by Bermuda Police Service and Department of Corrections to continue the search. The Police have asked that if Mr Maybury is spotted, contact police immediately on 295-0011 to report clothing description, his location and his mode of transport if he is seen.
They have reminded the public that harbouring a fugitive is a criminal offence for which a person can be sentenced to two years in prison.
Read More About