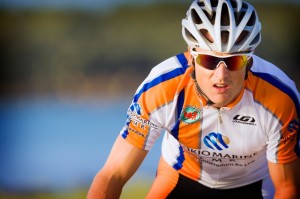 He went in as a medal contender and did not disappoint, as Bermuda's top male triathlete Tyler Butterfield has just collected a bronze medal at the 2010 Central American & Caribbean (CAC) Games, which are being held in Mayaguez, Puerto Rico from July 17th through August 1st.
Mr Butterfield topped off his win by running the last kilometer and crossing the line waving the Bermuda flag.
He completed the swim in a time of 19:26 coming out of the water in 16th, finished the bike course in a time of 1:23:49 the third fastest and then he recorded the second fastest run time of 34:26, to finish the race in a time of 1:58.34.
Mr Butterfield said the Mexican Team [who won gold and silver] "executed superb team tactics." Francisco Serrano, a strong all-round triathlete, led from start to finish entering transition two with a three minute lead. This allowed his Mexican teammate Crisanto Valencia to relax in the bunch as arguably the fastest runner, with no obligation to work as his teammate was out in front, something Mr Butterfield says is "a classic cycling tactic". After the race Mr Butterfield commented he was "pleased to see this type of team racing pay-off in triathlon, the Mexican team raced very intelligently".
Through the technical turns in the final sections of the bike Mr Butterfield was able to put a gap of 15 seconds between himself and his biking counterparts leaving him to run out of transition two in second place. Mexico's Cristanto Valencia ran across the gap to Mr Butterfield to put the Mexican team into first and second place, and Mr Butterfield to claim third for the day.
In the last kilometer Mr Butterfield ran in with the Bermuda flag, high-fiving the crowd, acknowledging their support.
Overall Mr Butterfield says he was pleased with his event and is looking forward to getting back to Boulder and into his Hawaii preparation. He will start his block three of five on Monday (he will complete a fifteen week preparation for Hawaii- five three week blocks of two weeks hard, one week moderate), capping off block number three with the Boulder 70.3 Half-Ironman on the eighth of August, where he was second last year.
Mr Butterfield's win was Bermuda's fourth medal of these games, and the island's second triathlon medal, following Flora Duffy's silver medal winning performance. Bowler Damien Matthews gained the first medal for the island when he captured a bronze in bowling, and shooter Ross Roberts added the second medal, a bronze, with a great performance in the 50m shooting.
Mr Butterfield commended his fellow triathlete, saying after the race "Flora had a great day, she has proved once again she is one of Bermuda's finest athletes. It was great for Bermuda to get a silver and a bronze medal here at the Games and for the sport of triathlon in Bermuda".
The CAC Games are the oldest continuous-running regional games, dating back to 1926. Held every four years, the strongly competitive Games typically host competitors from countries in Central America, the Caribbean, Mexico, Bermuda, and the South American countries of Surinam, Guyana, Colombia and Venezuela. Bermuda is fielding a 60-strong team of our top athletes spanning many sports, our largest ever contingent to compete in the CAC.
Tyler Butterfield follows in his parents footsteps; he is the son of Debbie and Jim Butterfield who are both elite athletes in their own right. His father James "Jim" Butterfield is the only Bermudian to ever compete in rowing at Olympic level, placing 14th at the 1972 Munich Olympics. Also a triathlete, the Sports Hall of Famer participated in the 1981 Hawaii Ironman finishing 7th and represented Bermuda in the 1978 Commonwealth Games in the triathlon. His mother Debbie Butterfield is a former top distance runner in Bermuda, winning the May 24th marathon a record seven times. She ran a 2.38 marathon in an Olympic Games qualifying race, and was the fourth woman to finish in the 1985 Boston Marathon.
Read More About