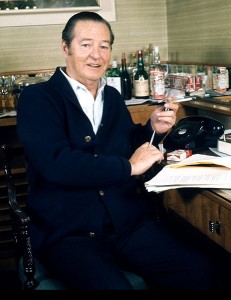 Sir Terence Rattigan was a cultural exile in Bermuda as well as a tax exile, The Daily Telegraph"  is reporting.
The British playwright's critical fall from grace in the 1960s was every bit as much a deciding factor in making the island his home in 1967 as tax savings he could make on fees for the screenplays he turned his hand to once his plays became unfashionable in London's West End and on Broadway.
Sir Terence lived in Bermuda for the final decade of his life, dying at his home on Knapton Hill on November 30, 1977 at the age of 66.
Once Britain's most acclaimed and popular playwright with such successes as "French Without Tears", "The Winslow Boy" and "Separate Tables" Rattigan's star had started to go into decline with the rise of "Angry Young Men" like John Osborne, Edward Bond and Harold Pinter.
Their incendiary plays — labelled "kitchen sink dramas" because they often dealt with the banalities of domestic life — weren't just attacks on the hypocrisy and cant of the establishment but also damning indictments of traditional British theatre as eptimosed by Sir Terence's elegantly written and constructed body of work.
Now, on the eve of what would have been his one hundredth birthday, Sir Terence's plays are undergoing a major critical re-evaluation and finding appreciative new audiences in the UK.
"Once upon a time, back in the '60s, Terence Rattigan felt so unloved in his own country that he left it to live in Bermuda," reports the "Telegraph". "In this, the centenary year of his birth, you could say the tables have finally turned. Anyone who doesn't like his work had probably better clear off overseas because an outbreak of Rattigan-worship, or at the very least pointed and unapologetic veneration, is about to sweep the nation.
"You could say that everything but the kitchen sink is being thrown at the festivities -– and in that image, of course, lies one hefty reason why this Rattigan 'moment' is being celebrated with particular fervour. Few playwrights in the 20th century were dismissed as cruelly from the warm hearthside of critical approval as Rattigan was in the wake of John Osborne's 'Look Back in Anger'."
Sir Terence, who had travelled through here on active service during World War Two and immediately felt an affinity for the island, used to joke he decided to make Bermuda his home because his theatrical and personal nemesis Sir Noel Coward would never set foot here: Coward had lived in Bermuda in the 1950s and dismissed the island as a slice of mid-Atlantic suburbia before decamping for Jamaica.
Arriving here in February, 1967, Sir Terence initially rented a house called "Sitting Pretty" located close to the third green of the Mid Ocean golf course in Tucker's Town. Later he bought "Spanish Grange" on Knapton Hill, filling the house with photographs and mementoes of his parents whose strained gentility, outward respectability and social aspirations cloaked the loneliness, futility and pretense of English upper-middle-class life — a theme running through most of his plays.
Battling cancer towards the end of his life, Sir Terence enjoyed a last theatrical success in the West End with "Cause Célèbre" in 1977. Based on the true story of Alma Rattenbury, who went on trial with her 18-year-old lover for the murder of her husband in the 1930s, the play was a valedictory of sorts — a final declaration of "Rattigan's passionate hatred of English puritanism and noble, unwavering affirmation of life" according to critic Bernard Levin.
Condemned by the public more for her seduction of a young boy than for any involvement she may have had in her husband's death, Alma's fate is left in the hands of the socially and sexually repressed jury forewoman.
By now in failing health Sir Terence made the painful journey from Bermuda to London for "Cause Célèbre's" opening night. The play enjoyed a successful run in London, was later turned into a popular television production with Helen Mirren and was successfully revived in the West End last year.
During the last months of his life, Sir Terence's old friend and collaborator Harold French — who had directed his first major hit in 1930s — moved into "Spanish Grange" along with his wife, Peg, to care for the dying man.
While in Bermuda, Mr. French was approached by the Bermuda Musical & Dramatic Society to direct a local production of one of  Sir Terence's most acclaimed play, "The Winslow Boy" – a task the playwright encouraged him to pursue.
Former Bermuda resident Tony Orman — who had appeared as the title character in the play as a teenager – was in the Bermuda production which Sir Terence had originally agreed to attend. But illness precluded him being there on opening night.
"I appeared as the family solicitor in the same play many years later," he said. "This time the director was movie director Harold French. The location was Bermuda, the home of Terence Rattigan, who was then a dying man.
"His old friend, Harold French came to take care of him, and agreed to direct an amateur version of 'The_Winslow_Boy' in his spare time. As Harold had directed Rattigan's first West End success, 'French Without Tears' in 1935, we felt  thiswas a great honour. Sir Terence sent us a charming letter on opening night."
The playwright died just a short time after his adopted home saluted him with a local production of one of his most enduring dramas.
Read More About
Category: All, Entertainment