This afternoon [Jan 25] the Bermuda Police Service released the 2010 Year End Statistics.
In 2010 there were 7 people killed and 29 people injured though the use of firearms, which represents a significant increase over 2009 which recorded 4 and 13 respectively. Across all other areas, crime is at its lowest point in the last decade, according to the report.
There were 4,575 offences for the whole of 2010, making 2010 the lowest yearly figure from comparative available records, which are available from 2000. In 2010 there was a decrease of -738 offences [or 14.2%] compared to
2009.
The report says: "Police enforcement and proactivity is at an all time high with arrests increasing by 11%, calls for service up 2%, stop and searches up 36% and drug seizures at a record of $29.5M."
The number of confirmed and unconfirmed firearm incidents in 2010 was 197. In 2010 confirmed firearm incidents doubled in comparison with 2009 and have doubled every year from 2007 to 2010, with 7 in 2007, 18 in 2008, 37 in 2009 and 70 in 2010.
In the same time period, unconfirmed firearm incidents have almost trebled every year from 2007 to 2010, with 3 in 2007, 16 in 2008, 46 in 2009 and 127 in 2010. There has been a significant increase in firearm incidents year on year between 2007 and 2010.
The chart below is extracted from the report, click to enlarge: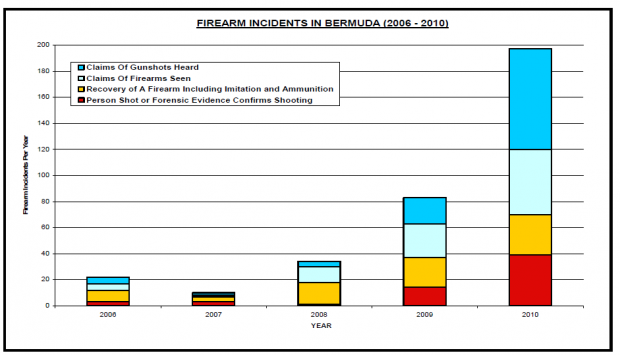 In 2010, there were 7 firearms recovered by the Bermuda Police Service of .22, .32, .38 or 9mm calibre plus 1 imitation firearm, 1 magazine to an automatic handgun and 2 air pistols.
With 36 persons shot in 2010, 17 persons shot in 2009 and 1 person shot in 2008, the report said: "It is clear that there has been an escalation in gang on gang violence in 2010, which has severely affected the quality of life of communities in Bermuda."
The full 25-page report is below, click 'Full Screen' for greater clarity:

>
Read More About