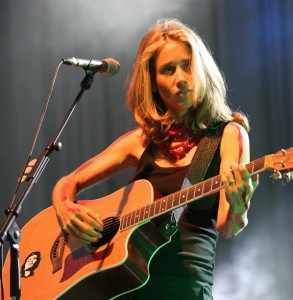 Bermuda folk/rock superstar
Heather Nova
has released the first single from her forthcoming CD — a heartfelt tribute to a young American who has spearheaded disaster recovery efforts around the world.
Recorded at her West End home recording studio, the single "Higher Ground" was recently posted on-line by the Bermudian singer-songwriter.
"I wanted to share with you this song I wrote a couple of months ago," she said at her website. "It's called 'Higher Ground' and it was … inspired by an article I read by humanitarian Matt George.
"He was a surfer who turned to saving lives after the tsunami in 2004. I was impressed and humbled by what he does and wrote the song as a tribute to him."
Mr. George worked in New Orleans in the wake of Hurricane Katrina in 2005 and has gone on to serve the United Nations on the front line in the disaster relief efforts after the earthquake in Pakistan, the eruption of Mount Merapi and the Pangandaran tsunami in West Java.
His charitable organisation "The Last Mile Operations" is currently stationed in the East Indian Ocean on the "Mikumba 2″, an 85-foot schooner for humanitarian actions, and is providing aid to outer groups of islands.
Most recently Mr. George and his team were deployed in the most remote highlands of West Sumatra, helping victims of the Solok earthquake, and then in the Solomon Islands, offering assistance in the wake of the most recent tsunami disaster.
Ms Nova recorded the track at home, providing the vocals, guitars and keyboard cello. Ambient sounds and mixing were courtesy of her husband Felix Tod.
Her new CD "300 Days At Sea" will be released next month. Ms Nova recently completed a European tour which included Bermuda artists Joy T. Barnum and Taylor Rankin in the line-up. Earlier this year she also appeared at the Bermuda Festival of the Performing Arts, donating her fee to the Chewstick Foundation's anti-violence initiative.
Her song "Together As One" — written specifically to support the work of the Bermuda Sloop Foundation — was used in a tribute video to 18-year-old Spirit of Bermuda" crewmember Vershon Simmons, killed in a March traffic accident.
[Update, original music video that was posted was removed, the video below is of the song]
Read More About
Category: All, Entertainment, Music