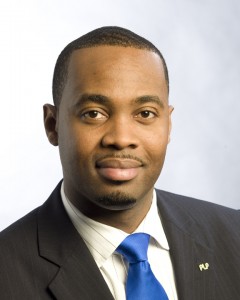 Junior Finance Minister Senator David Burt unveiled ambitious plans to "ensure the fair and equitable distribution of Government dollars spent on projects large and small"  in the Upper House today [Jul. 6].
Outlining the infrastructure and operations of a new Government Office of Project Management and Procurement, Sen. Burt said not only would small businesses benefit from the introduction of this new authority but so would Bermuda taxpayers.
"Madam President, by establishing this Office, we intend to fulfill our commitment to transparency and good governance and to achieve value for money," the Junior Minister told the Senate.
"[We will achieve this] by raising the profile and importance of procurement as a strategically critical function; striking an effective balance between cost management, quality service, timely delivery, investment in the Bermuda economy and people, long-term sustainability and compliance with legislation; ensuring compliance with approved policies and processes; managing suppliers and contractors to ensure long-term sustainability and long-term relationships; maximising value by collaborating with the private sector and identifying shared service opportunities; and requiring timely, accurate and appropriately detailed reports on Government spending."
The full text of Senator Burt's statement appears below
Madam President, It is my pleasure to speak this morning to advise fellow Senators of the new developments regarding the Office of Project Management and Procurement.

Senators will recall that in the 2010 Throne Speech, the creation of a Project Management and Procurement Office was first touted. During the 2011/12 Budget debate in March, I advised senators that the establishment of the Office of Project Management and Procurement is yet another pillar in our efforts to strengthen financial accountability in Government and to enhance our governance framework.

When fully staffed, the Office of Project Management and Procurement will be manned with persons with the requisite skill and experience to ensure that there is no bias in the tendering process; that Government will obtain value for money; and there is adequate oversight of capital projects.

This office will also ensure that the processes for tendering and selecting qualified vendors are transparent and in accordance with international standards; and that all businesses including small business owners will have an equal opportunity to obtain Government contracts to provide goods and services.

Madam President , earlier this year, the Ministry of Finance circulated a request for proposal to local accounting firms and other interested vendors. Four companies responded with very attractive offers to work with us for a reasonable and competitive rate.

Madam President, in order for this important Department to achieve its objectives, we require persons with significant experience in procurement systems. I am pleased to announce that, as of June 1st, the successful firm, Pricewaterhousecoopers, has provided the Government with an interim director, Ms Janet Albion, Senior Consultant in their UK Government & Public Sector Procurement practice. Ms Albion is a Member of the Chartered Institute of Purchasing & Supply (CIPS) with over 15 years' public sector procurement experience.

She has previously held the position of Director of Procurement for the Association of Greater Manchester Authorities (AGMA), a collaborative procurement organisation for the 10 Greater Manchester local government authorities. She was also Director of Procurement for a large Metropolitan Borough Council in the United Kingdom.

Ms. Albion has been contracted to us for up to six months, and during that period, she will:

1) Establish the office, and recruit and train a suitably qualified team, including a permanent successor for the director role;
2) Produce and implement a code of practice that will define the policies and procedures for the purchase of goods and services; the tendering and management of capital projects; complaint handling and dispute resolution;
3) Review current contracts to identify opportunities for further efficiencies to enhance value for money.

Madam President, it is the Government's intention to table legislation in this session that will:

(1) Establish the Office of Project Management and Procurement
as the authority to have oversight of all procurement functions in Government;

(2) Introduce regulations to legislate the code of practice; and (3) Establish penalties for non-compliance.

Madam President, by establishing this Office, we intend to fulfill our commitment to transparency and good governance and to achieve value for money by:

Raising the profile and importance of procurement as a strategically critical function;
Striking an effective balance between cost management, quality service, timely delivery, investment in the Bermuda economy and people, long-term sustainability and compliance with legislation;
Ensuring compliance with approved policies and processes;
Managing suppliers and contractors to ensure long-term sustainability and long-term relationships;
Maximising value by collaborating with the private sector and identifying shared service opportunities; and
Requiring timely, accurate and appropriately detailed reports on Government spending.

Madam President, as I've said before, this Government is not about talk, it is about action.

Though this Government has had open tendering for the provision of services for a long time, it is often difficult for small or new companies to outbid established companies for projects.

Established companies have often repaid their initial investments and loans and therefore have lower costs those new start-up companies.

An Office of Procurement, following international best practices, changes the conversation from lowest price, to value for money.

By having rules that are followed by all and are known to local business, the department can ensure a more equitable distribution of Government dollars. Standard rates can be set for the provision of certain good and services, and these can be met by new and existing business alike.

The Government is an important consumer in the local economy. The broader distribution of business and service contracts in the local economy is good for large businesses, good for small business, and good for Bermuda.

The Office of Procurement will ensure the fair and equitable distribution of Government dollars spent on projects large and small. It will provide a boost to small business by ensuring value for money across all departments within the government, and it will further put a stamp on this government's record of good governance.

Madam President, This Government has strengthened the office of the Auditor General, is enacting Public Access to Information, created the office of the Ombudsman and the department of internal audit. I am proud of the Government's efforts in this regard, and the Project Management and Procurement office is just another step to improve the governance of our country for now and future generations.

Though our current system of tendering projects is strong, all processes can be improved. The department and subsequent legislation is also important to ensure that government's decisions, and the reputation of our country, are not open to false accusation and innuendo. This is a continuing process, and I look forward to bringing forward the legislation to enshrine these practices in our laws.

Thank you Madam President
Read More About