Today [Aug.22] Logic Communications officially opened its new Customer Care Centre on 30 Victoria Street, located on the ground floor of the KeyTech Building.
Diana Winfield Head of Marketing & Customer Operations said, "The opening here on Victoria Street allows us to showcase new technologies and services not seen on island, they are designed to educate and delight our customers. It is a very modern space with interactive services."
"Customers can graphically see the effect Internet speed has on the services they use like movie downloads, picture uploads and Internet video chatting. This allows our customers to select the package that suites their needs and usage patterns."
Pictured from left to right are: Dr Frederick Ming, Acting Permanent Secretary for the Ministry of Environment, PLanning and Infrastructure Strategy, Dr Hiram Edwards, Department of Telecommunications, Ms Diana Winfield, Head of Marketing and Customer Relations of Logic Communications Ltd.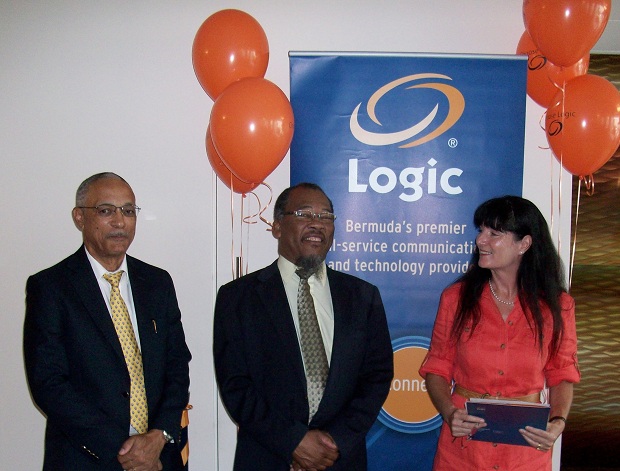 Other interactive features included a new learning centre where customers can book an appointment to come in and be taught how to open an email account, send and check mail and how to pay their bills on line. At the opening was a senior in the process of upgrading her internet usage skills.
The Eye Step interactive game reacts to customers walking across the floor and the Eye Touch video screen allows customers to touch the screen and select the information relevant to them through the storefront window.
Dr. Hiram Edwards, of the Department of Telecommunications and Acting Permanent Secretary of the Ministry of Environment, Planning and Infrastructure Technology were also on hand for the opening.
Contact information for Logic's new store will remain the same but the hours will change. New opening hours are Monday through Friday from 8am until 6pm. Closed weekends. "Our Customer Call Centre is still available to assist those needing assistance outside of regular business hours and is open on Saturdays from 9am until 5pm." Ms. Winfield explained.
Throughout the day customers entering the store will be treated to cupcakes, drinks and the opportunity to play games for prizes.
Read More About
Category: All, Business, technology