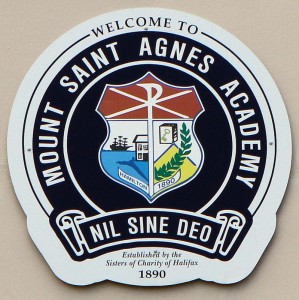 Mount Saint Agnes Academy students and well over a hundred of their Grandparents packed St Theresa's Roman Catholic Cathedral today to celebrate a 10:30am Grandparents Mass yesterday [Sept.9].
Bishop Robert Kurtz CR presided over the Mass attended by all MSA grades from Kindergarten to Grade 12. In place of adults, MSA students from Grade 5 up filled all the roles of song-leaders and readers. In parts of the Mass, students and their Grandparents shared roles.
First reading was by Samantha Blakemore. Altar servers were Stephen Corrado, Kayla Mahoney, Katrina McPhee. Song leaders were Karen Marino, Simon Cabral, Victoria Paulo. The 'Prayer of the Faithful' was led by Mr Terry Stevens and his grand daughter Megan Hands along with Mrs Catherine Carreiro and her grand daughter Kristiana Smith.
The Offertory Procession saw radio personality David Lopes and his grand children, Tyler, Brandon, and Brianna, taking that role. The Communion Reflection was ably handled by Kayla Henderson, Harlee Purvey, Mya Rodrigues, Catia Pimentel, Luke Pimentel, Yanni Squire, Haileigh Cabral, and Erin Cardoso.
Immediately after the Mass, Grandparents were invited to a short reception in the Cathedral Hall and then went on to visit the classrooms and sit in on part of that day's lessons. At the reception, MSA Head Mrs Sue Moench thanked Grandparents for their participation and pointed out that students still needed to be told just how useful some school learning was.
She said that algebra and trigonometry, for instance, were knowledge skills that were heavily used in the building and construction trades. That when students questioned why some subjects had to be tackled, Grandparents could usefully remind them of things like that.
Grandparents were invited to sit in on some of the day's classes. The video below shows Grade 1 students [6-year-olds] and their Music teacher, Ms Alana McPhee, in a regular music class:
Read More About
Category: All