He's got rhythm, he's got considerable artistic talent — along with some keen insights into Bermuda culture. Who could ask for anything more?
Hamilton's Select Palette Art will this month be featuring an exhibit of paintings by Bermuda College lecturer Edwin M.E. Smith.
The show opens on Thursday [Nov.10].
Jazz buff Prof. Smith said the show's title – "Rhythmic Moments" — was actually a metaphor for the ongoing process of change he sees taking place around him.
"I have linked the theme 'rhythmic moments' with my interest in sociological matters," he said. "I truly see the things that we do repeatedly in one's daily life that may be overlooked and seemingly insignificant, as awesome rhythmic moments.
"I have captured some of these moments and I believe that they will be seen for their rhythmic qualities.
"Incidentally, my favorite jazz musician is Ramsey Lewis and I have entitled these works after some of his most popular jazz compositions."
Prof. Smith's "'Something About You", Layered Charcoal and Acrylic on Masonite, 24"x 48"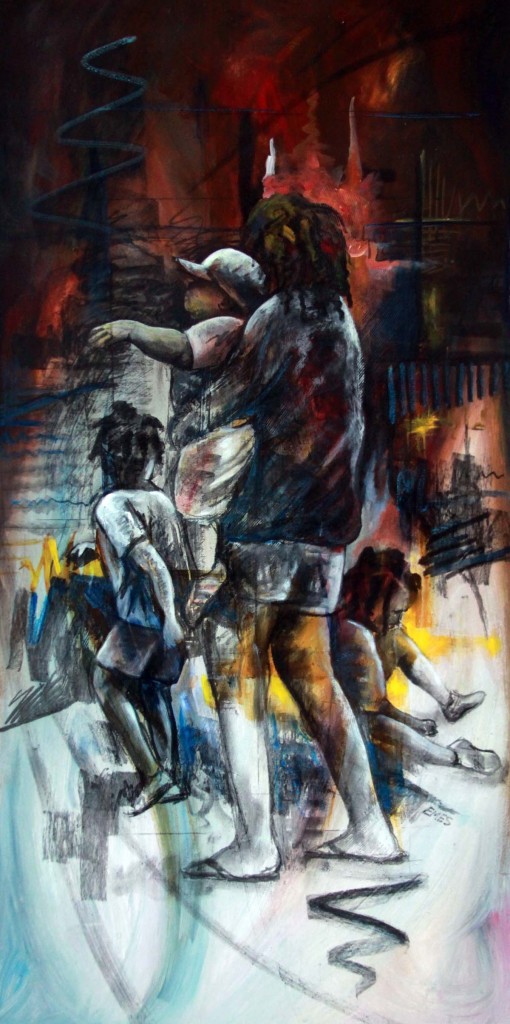 The exhibition runs through November 30.
Select Pallette Art is located in the Common Ground cafe and restaurant located at 11 Chancery Lane in Hamilton.
It will also be exhibiting contemporary Bermuda works by such artists as Ami Zanders, Charles Anderson, Graham Foster, Milton Hill, Sara Simons, Susan A. Pearson and Vernon Clarke in November.
The Common Ground Café is open Monday to Friday from  8am-4pm and on Saturday from  8am-2pm.
Read More About
Category: All, Entertainment