Bermuda's Graham Foster is known for his modern art informed by ancient peoples.
Some of the Bermudian artist's work is featured in the current Hamilton exhibit "Rhythmic Movements" and Mr. Foster said one piece in particular speaks to his interest in the timeless connection between modernity and age-old traditions.
"The title 'Sepik Shuffle' is in reference to the Irian Jaya Peoples of Papua New Guinea who live near the Sepik River," said Mr. Foster. "These tribal people carve amazing expressionistic sculptures from wood.
"Their sculptures are a strong influence in this painting. Tribal art, especially from Africa and the Pacific Rim, are also an influence in my sculptures."
"Sepik Shuffle" [27-inch-by-27-inch acrylic on wood]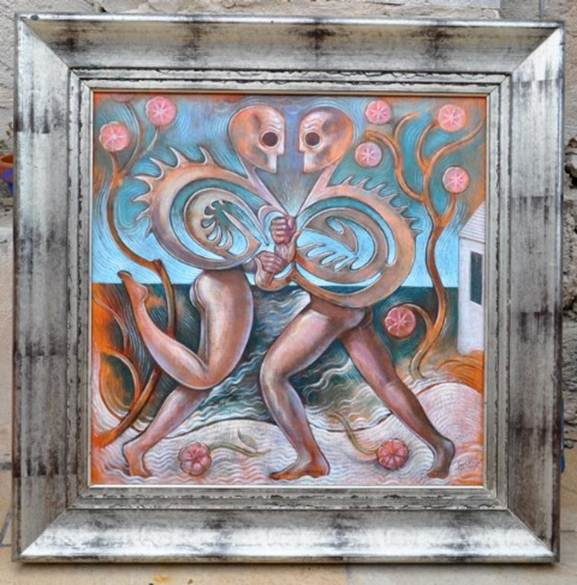 Earlier this year Mr. Foster was commissioned by the Masterworks Museum to create its sculpture marking John Lennon's time on the island in 1980, a period when he reconnected with his muse and wrote or polished the songs featured on what proved to be his last albums, "Double Fantasy" and the posthumously released "Milk & Honey."
"Rhythmic Moments", which continues through November 30, also features multi-media contemporary works by by Ami Zanders, Edwin M.E. Smith, Charles Anderson, Milton Hill, Sara Simons, Susan A. Pearson and Vernon Clarke.
The show is on display at Common Ground Café, 11 Chancery Lane, Hamilton and is sponsored by Goslings Ltd. and Patterson Partners
Read More About
Category: All, Entertainment