North Village Community Club [NVCC] President, Shervin Dill and Freisenbruch-Meyer Group [FMG] President, Michael Freisenbruch, presented a donation in the amount of $1,700 to Bermuda Cancer and Health Center last week.
FMG supported NVCC's Kicks for Cancer fundraiser by donating $100 for each goal scored during the month of October. Despite 2 postponed games, the Village Premier team racked up 17 goals.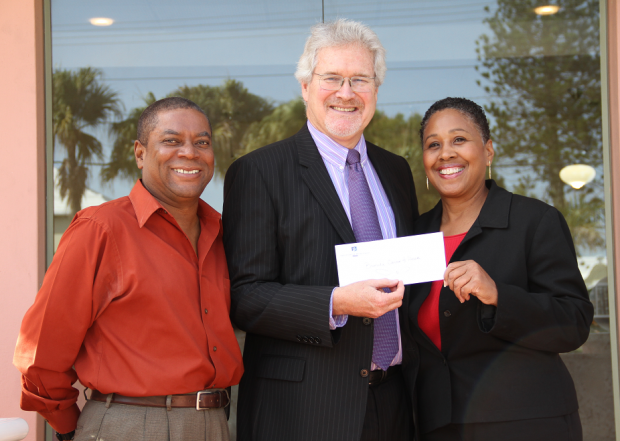 For the past 2 years, the Rams have worn their pink jerseys in October to show support for Breast Cancer Awareness Month and NVCC has donated a combined amount of over $2,000 from t-shirt sales, members, and bystander donations. With the addition of FMG's contribution, Bermuda Cancer and Health Center received just over $2,400 from the 2011 Kicks for Cancer campaign alone.
Rhonda Smith-Simmons, Education Officer, accepted the cheque on behalf of the center, "We are most appreciative of the partnership this year between Freisenbruch-Meyer Group and North Village Community Club on our behalf.
"These valuable funds have been earmarked toward payment of our new Ultrasound equipment which provides the latest in G. E. ultrasound technology for Bermuda. Ultrasound is an important diagnostic tool for detecting disease in many body areas, including breast, prostate, abdomen and thyroid."
Michael Freisenbruch, FMG President, stated, "We have a great relationship with NVCC and once we heard about the Kicks for Cancer campaign, I immediately thought it would be a wonderful opportunity to support Bermuda Cancer and Health Centre. It was our pleasure to be able to provide this extra financial contribution in conjunction with NVCC."
Mr. Freisenbruch continued, "We are all tightening the purse strings, but it's essential to create more innovative ways to support our charities, like Kicks for Cancer, and ensure their sustainability during this recession."
Shervin Dill commented, "This is a win-win situation for all of us. As a Community Club we are very proud of this opportunity every year to wear Pink and raise funds for this worthy cause. With FMG coming on board, it has become a motivational factor for the Coaches, Players and Fans to do that little bit extra in our efforts to support Kicks for Cancer."
Read More About