[updated, Nov. 9]Tropical Storm Sean remains a threat to Bermuda, with its strongest winds set to hammer the island late on Thursday [Nov. 10] and into Friday.
An update issued by the Bermuda Weather Service at 5.30 a.m. today [Nov. 9] reports the storm's closest point of approach will be around 100 nautical miles to our northwest early Friday morning.
"Conditions will remain windy with occasional showers, with tropical storm force winds expected Thursday evening through Friday morning," said a BWS forecaster.
The 18th named storm of the Atlantic hurricane season, Sean was originally classified as a sub-tropical storm  – which can attain the same wind speeds as a category one tropical storm while typically producing less rain.
National Oceanic and Atmospheric Administration Satellite Photo Of Tropical Storm Sean Taken On Tuesday [Nov.8]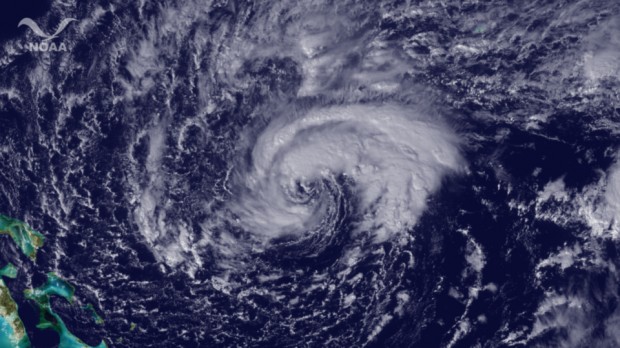 But a BWS forecaster said: "Sean has now fully taken on tropical characteristics and is now termed a tropical storm.
"Tropical storm force winds of 34 knots or greater are expected to affect Bermuda and the marine area within 36 hours. "
He urged Bermuda residents to check regular updates on Sean at the BWS website.
Bermuda has been lashed by strong winds since the weekend from what been a near-stationary low-pressure area southwest of the island.
Gale-force gusts produced by the system have caused chaos in Bermuda and the surrounding waters in recent days.
There have been intermittent power blackouts throughout the island, ferry services have been disrupted and the start of the island's World Rugby Classic  had to be postponed on Sunday [Nov.6] after its National Sports Centre venue was hammered by high winds.
Earlier this week the Bermuda Maritime Operations Centre reported yachtsman en route to Bermuda had to be rescued because of rough seas and the arrival of at least one cruise ship has been pushed back a day because of the bad weather.
Five Day Track Of Tropical Storm Sean Issued By The US National Hurricane Centre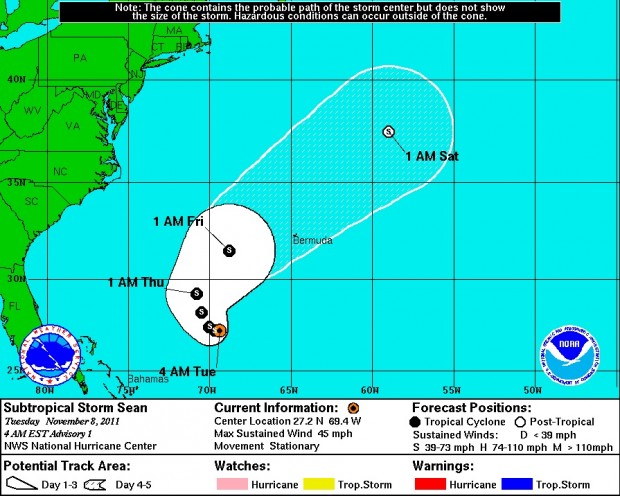 A tropical storm watch went into effect yesterday morning [Nov.8] after Sean formed between Bermuda and the Bahamas.
The National Hurricane Centre [NHC] in Miami said in an advisory on Tuesday afternoon that Sean's maximum sustained winds have increased to 50 miles per hour with higher gusts.
Forecasters at the NHC warned additional strengthening is possible over the next two days.
Tropical storm force winds extend outwards up to 230 miles from Sean, mainly to the north of the centre.
Forecasters warned that tropical storm conditions are not only possible in Bermuda as late Thursday but that  swells generated by the storm may affect portions of the southeastern United States, causing life-threatening surf and rip currents.
The Atlantic hurricane system began June 1 and runs through November 30.
Related Posts