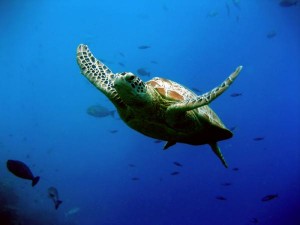 Seven young turtles which spent much of the year at the Bermuda Aquarium, Museum & Zoo [BAMZ] have now been released into the Sargasso Sea.
BAMZ and Bermuda Zoological Society [BZS] staff released the three green turtles and four loggerheads from its conservation vessel "Endurance"  two miles north of North Rock.
The BZS newsletter reported on Friday [Nov. 18] the young turtles — one of which required months of medical care and rehabilitation — had washed up in storms along Bermuda's beaches last winter.
"Once the sargassum started showing up again this fall in large enough amounts, we could release them back into the wild," said Aquarium curator Patrick Talbot.
Sargassum is a free-floating seaweed found offshore in mats throughout the South Atlantic region. These mats of vegetation provide crucial habitat for a wide variety of marine animals in the open ocean, including tuna, dolphin, wahoo and billfish as well as sea turtles and marine birds.
Read More About
Category: All, Environment, News