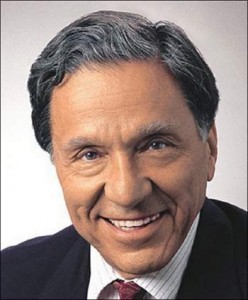 Nabors Industries Ltd., the Bermuda-domiciled oil-drilling contractor whose chairman Euegen Isenberg [pictured] is set to receive $100 million for relinquishing his chief-executive title said yesterday the US Securities & Exchange Commission has opened an investigation into perks received by its executives, the "Wall Street Journal" is reporting .
The disclosure of the SEC inquiry came in a regulatory filing by Nabors, a Bermuda-registered company with operational headquarters  in Houston, Texas.
A Nabors spokesman couldn't immediately be reached for comment.
The use of Nabors's corporate jets for potentially personal travel by executives is one of the areas being probed by the SEC.
Using US Federal Aviation Administration flight records, the "Journal " had previously reported that Nabors's jets made frequent stops in Palm Beach, Florida., and Martha's Vineyard, Massachussetts — both spots where Mr. Isenberg has residences.
Earlier this year the "Wall Street Journal" estimated the flights cost a total of about $704,000, yet Nabors didn't provide a dollar figure for the cost of aircraft perks for Mr. Isenberg in 2009 or 2010.
In June, a Nabors spokesman said the company "complies with all Internal Revenue Service guidelines and SEC disclosure requirements with respect to the use of company aircraft by its executive officers."
Under SEC rules adopted in 2006, companies generally must annually disclose the cost of executives' personal use of corporate planes if it exceeds either $25,000 or 10 percent of the cost of all perks.
Mr. Isenberg's employment contract with Nabors, filed with the SEC in April 2009, entitles him to establish company-subsidised offices at or near his principal residence in Palm Beach, "and/or at any other residence maintained by him." The contract also entitles him to perform his duties "from offices in or near his places of residence."
In the filing Wednesday, Nabors said the company was cooperating with an "informal inquiry" by the SEC "related to perquisites and personal benefits received by the officers and directors of Nabors, including their use of noncommercial aircraft."
Late last month, Nabors announced that it was promoting a lieutenant of Mr. Isenberg's to the position of CEO, but Mr. Isenberg would remain as chairman. Even though he wasn't leaving the company, the change triggered a clause in Mr. Isenberg's contract that entitled him to a $100 million payout.
Read More About