The crowd which braved bad weather to line Front Street this morning [Nov.11] applauded the island's war veterans as they marched by in the Remembrance Day parade to the Cenotaph, demonstrating that locals have not forgotten those Bermudians who made the ultimate sacrifice during combat.
The combined bands of the Bermuda Regiment, the Somerset Brigade, North Village and Bermuda Islands Pipes & Drums led the parade today.
Bermuda's war vets, many of whom are over 80 years, mostly marched the parade route although some were pushed in wheelchairs. All had hard-won medals on display.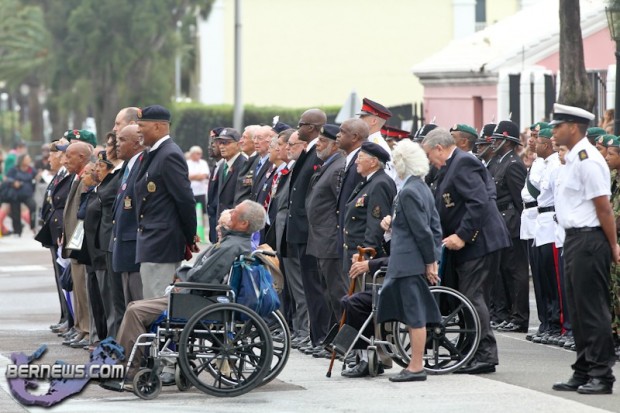 War vets on parade represented former servicemen from the Bermuda Volunteer Rifle Corps, Bermuda Militia Infantry and the Bermuda Militia Artillery. In addition there were other veterans marching who served with Canadian, British and American forces in various armed conflicts.
The number of Bermuda war veterans continues to dwindle.
The war vets were led today by president of the War Veterans Association Jack Lightbourn, who is pictured below. Now 86-years-old and one of Bermuda's last surviving World War Two vets, Mr. Lightbourn left Bermuda in May 1944 as a 19-year-old to serve in the Royal Navy in Europe.
Finishing his service in what was then British Mandatory Palestine, Mr. Lightbourn served until 1946, when he returned to Bermuda.
In World War One [1914-1918] and World War Two [1939-1945], a combined total of approximately 600 Bermudians served overseas in Bermuda's military contingents. All the soldiers who went overseas had to specially volunteer because under Bermuda law, then as now, no Bermudian soldier could be sent overseas into a combat zone without a special Act being passed by Bermuda's House of Assembly.
These 600 volunteers were spread between the Bermuda Volunteer Rifle Corps [Overseas Contingents] of 1915-1918, and 1943-1945; and the Bermuda Militia Artillery contingents, the Bermuda Contingent, Royal Garrison Artillery of 1916–1918, and the BMI contingent of 1943-1945.
Reflecting the social mores of those decades, the BVRC were white and the BMA were black. Of the 120 white volunteers of 1915–1918, 40 died overseas; while ten of the 240 strong black BCRGA died overseas. Casualty rates were lower in 1939-1945 when 18 BVRC and two BMI died overseas.
The small band of men who march today on Remembrance Day are living reminders of Bermuda's large sacrifice in those two wars.
Read More About