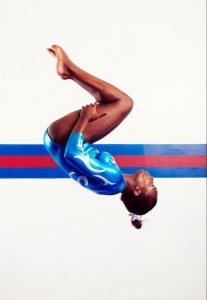 The Bermuda Gymnastics team returns to the island today [Feb.14] after their second consecutive weekend of competition. Following success at last weekend's Manhattan Classic meet, Tabytha Hofheins (14, Warwick Academy), Danielle Wall (12, BHS) and Sydney Mason (13, BHS) joined team captain Morgan Beckles (16, BHS) at the IGI CHicago Style Classic on Saturday.
The gymnasts faced an extremely high level of competition, as the IGI Classic is the largest gymnastics invitaitonal in the world, hosting more than 4000 top level athletes.
Morgan Beckles [pictured] managed two trips to the medal podium: placing 8th on floor with a 8.9 and 9th on beam with an 8.275. In the 14+15 year old age group, Tabytha Hofheins had her highest finish on bars with an 8.2, nailing her new routine for the second competition in a row.
Sydney Mason and Danielle Wall competed in the under 13 age group and both had their highest scores on the floor exercise, with an 8.55 and a 7.6 respectively.
The competition serves as an important stepping stone in the BGA's competitive season: letting the gymnasts measure their skills and preparation against top athletes from around the world.
"The Chicago meet is a prestigious event and one which we have been going to for several years. It's a great mid-season push for the girls who are reminded about how hard they need to work to compete on an international level", says coach Mandi Baughman who accompanied the girls. "The girls should be even more motivated to improve for our March 31st meet here in Bermuda".
Read More About