A special design of the traditional Bermuda Palmetto Palm Doll has been created for the Queen's Diamond Jubilee. Well known artisan and tradition-bearer Ronnie Chameau designed the doll that is crafted entirely from palmetto palm leaves as a special gift to Her Majesty Queen on behalf of the people of Bermuda.
The palm leaves for the magnificent doll were gathered from the new growth of the palmetto tree. Her dress is trimmed with the fish pot weave, her shawl is basket weave trimmed with stripped palmetto leaves, her basket and umbrella are stripped palmetto leaves, the roses are made from palmetto.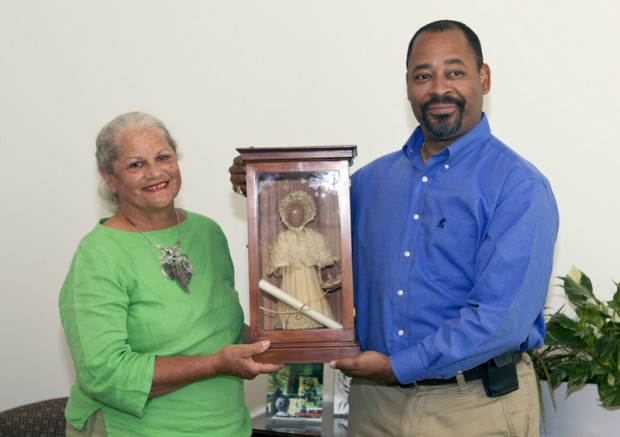 Her head is turned Bermuda cedar with fiber from palmetto palm for her hair, Mrs. Chameau States, "I do not paint faces on my dolls. I feel it is sacred. When one looks at the face, you see your own face or the face of your ancestor."
It took one month creating this doll. The weaving is done while the leaves are moist, and then pressed between boards so that the weave stays in place. The Bermuda Cedar head and base are carved by Llewellyn Emery the Bermuda cedar display case is lined with wood from the Pride of India tree, crafted by master craftsman Fred Phillips.
On hand to accept this gift from Mrs. Ronnie Chameau was The Diamond Jubilee Committee Chair Major Marc Telemaque.
Read More About
Category: All