[Updated] The Department of Marine and Ports, Ministry of Transport advised the 7.55am Rockaway Service will no longer operate effective immediately.
The Transport Ministry also advised that the 3:45pm and 6:30pm ferries departing St. George's today [July 3] have been cancelled for today, as has the Rockaway/Cavello Bay/Watford 4:10pm service.
A Ministry spokesperson said, "The Department of Marine & Ports in conjunction with Department of Communication and Information wishes to apologize for failing to notify the public in a timely manner about this change.
"Members of the public may previously recall that this change had been previously proposed and then reviewed by the Minister of Transport in consultation with the ridership. However as of July 2nd 2012, the 7.55 a.m. Rockaway Service will no longer operate.
"The Department wishes to advise that an alternative departure from Dockyard to Hamilton will occur at 8 a.m. each weekday for the duration of the summer and some Rockaway passengers may wish to utilize this alternative routing.
"The Department of Marine & Ports apologizes for any inconvenience that this may cause and wishes to thank Sea Express passengers for their continued support," concluded the statement.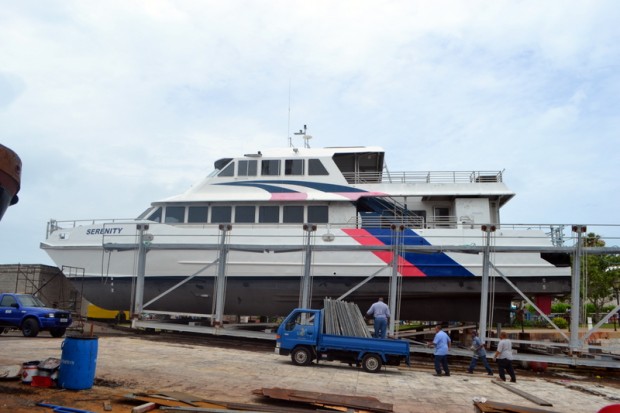 A quick visit to Dockyard shows the Serenity ferry [pictured above] out of the water and currently on the slipway at the Marine & Ports Dockyard depot. We asked the Transport Ministry to clarify unofficial suggestions that a few Government ferries may be having some form of technical difficulties at this time, and will update if we receive a response.
In addition, the Department of Marine and Ports would like to advise the public that, due to the fireworks display to be held at at 10pm during Harbour Nights tomorrow [July 4], the 10pm ferry to Dockyard will be held for approximately 10 minutes after the fireworks show has finished.
Update 3.52pm: A spokesperson said the Rockaway/Cavello Bay/Watford 4:10pm service is "cancelled as a result of mechanical related issues."
Read More About