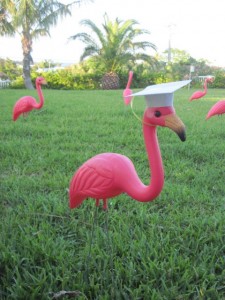 Bermuda Zoological Society has wrapped its annual "Flamingo Flocking" fundraiser after tickling the Island pink throughout June.
The popular campaign—which raises funds for conservation education—was launched June 1 by Bermuda's new Governor George Fergusson, on the Government House lawn.
Throughout June, the support charity for Bermuda Aquarium, Museum & Zoo [BAMZ] offered flocks of plastic flamingos to private and corporate participants who wanted to surprise relatives, friends and colleagues by paying to have the birds planted on lawns or in office lobbies. More than 80 "flockings" took place throughout the entire length of the Island, raising nearly $10,000.
BZS has now officially ended the campaign, with the plastic flock migrating back to roost at its BAMZ storage shed in Flatts.
"We hope we didn't ruffle too many feathers," joked BZS Development Director Lynda Johnson, "but this year's Flamingo Flocking campaign was a great success. Thank you to everyone who participated—we look forward to another fantastic flocking season next year!"
In the meantime, she added, Bermuda residents and visitors are invited to visit the real flamingos at the Zoo; the flock of long-necked pink birds has long been one of the most popular attractions at BAMZ.
Funds raised during the campaign support BZS's free conservation-education programmes, which include classes at BAMZ, marine expeditions to coral reefs and seagrass beds, fieldtrips to national parks around Bermuda, and holiday and afterschool camps and nature encounters.
More than 6,000 students of all ages benefit annually from the year-round programmes, which are run under the BZS mission "to educate tomorrow's environmentalists."
BZS is the support charity for Bermuda Aquarium, Museum & Zoo, funding a full slate of education programmes, conservation and research projects, exhibits and community outreach events. BAMZ is a Bermuda government institution within the Department of Conservation Services.
Read More About
Category: All, Environment