This past week, the Premier and Minister of Finance, Paula Cox, led a delegation to London to continue efforts to strengthen Bermuda's relations with member countries of the Gulf Cooperation Council [GCC].
The delegation arrived in London last Sunday [July 15] and included Wayne Furbert, Minister of Business Development and Tourism; Jeremy Cox, Chief Executive Officer of the Bermuda Monetary Authority and representatives of Price Waterhouse Coopers [PWC] Bermuda, Caroline Foulger and Belaid A. Jheengoor.
A Government spokesperson said, "The visit was part of a Bermuda Government initiative targeting further economic diversification. The goal is to expand Islamic Finance opportunities and strategic partnerships in tourism development projects, while leveraging Bermuda's leading insurance and reinsurance platform.
"Senior level meetings, facilitated by the Bermuda Government's London office, PWC and the Arab Financial Forum, have been held with Government and private sector representatives from Saudi Arabia, Qatar and the United Arab Emirates.
"These included meetings with the Ambassador of the United Arab Emirates, His Excellency Abdulrahman Ghanem Almutaiwee and the Ambassador of Qatar H.E. Mr. Khalid Rashid Salem Al-Homoudi Al-Mansouri."
Premier Cox described the meetings as "meaningful"and said that Bermuda looks forward to a long-standing relationship with the countries of the GCC.
Roundtable discussion dinner at the Athenaeum Club, 107 Pall Mall, London: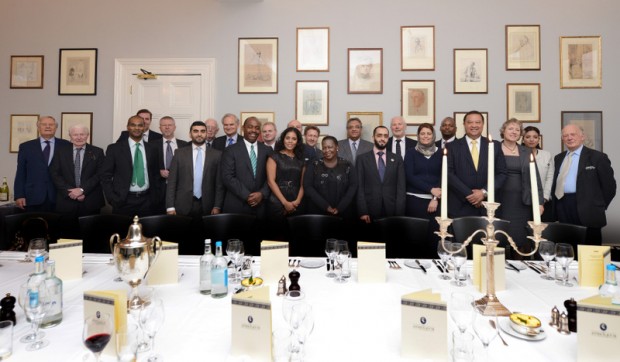 Premier Cox and the delegation hosted a roundtable discussion dinner on Monday [July 16] to encourage and promote inward investment to Bermuda from the Middle East. She said the discussions focused on investment opportunities in the areas of infrastructure, tourism, insurance and reinsurance.
She noted that the delegation's message was that Bermuda's unified approach to public, private and regulatory partnerships provided an environment that is open for business and welcomes investment from the GCC region.
The Premier said, "Bermuda is well positioned to forge expanded links in the area of Islamic Finance with the countries of the GCC. Our discussions during this visit primarily focused on the growing ties between these countries and Bermuda, while also touching on existing bilateral agreements with Bahrain and Qatar and plans for an autumn visit to the region."
Premier Cox continued, "Bermuda has a proven record of delivering on the distinct qualities that are necessary for achieving business success. We welcome the diverse business and governments of the GCC and are ready to help them achieve even greater prosperity and success."
H.H. Shaikh Mohammed Bin Rashed Al Maktoum; Mr. Jeremy Cox; His Excellency Abdulrahman Ghanem Almutaiwee; Premier Cox, Minister Furbert; Mr. Belaid Jheengoor of PWC; Representatives of the Arab Financial Forum: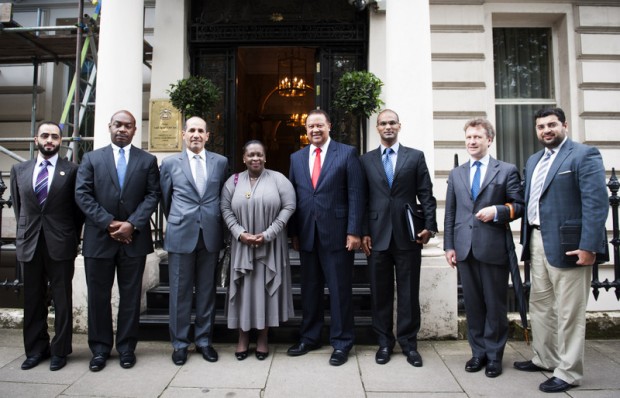 The Premier took the opportunity to share with the roundtable attendees that Bermuda's international reputation has been earned over the years for a number of key reasons.
Premier Cox pointed out that "beyond its tax neutrality, and strategic location with access to key markets; it occupies a leading position as an experienced provider of reinsurance capacity, alternative risk transfer and wealth management, an extraordinary concentration of intellectual capital and an efficient and innovative regulatory framework."
Minister Furbert, who also welcomed the opportunities for business development, added, "The Bermuda business community is well known for its in-depth knowledge and experience with Islamic finance products and structures and has a history of bringing innovation to the global hedge fund and reinsurance industry, through understanding of unique products such as, for example, insurance-linked securities.
"These defining characteristics of our international financial services sector can prove an invaluable asset to the governments and businesses of the GCC, particularly as they seek to develop a regional financial services hub and new business opportunities."
Mr. Jeremy Cox; Ms. Kimberley Durrant of the London Office; Premier Cox; H.E. Mr. Khalid Rashid Salem Al-Homoudi Al- Mansouri; Minister Furbert; Mr. Belaid Jheengoor of PWC: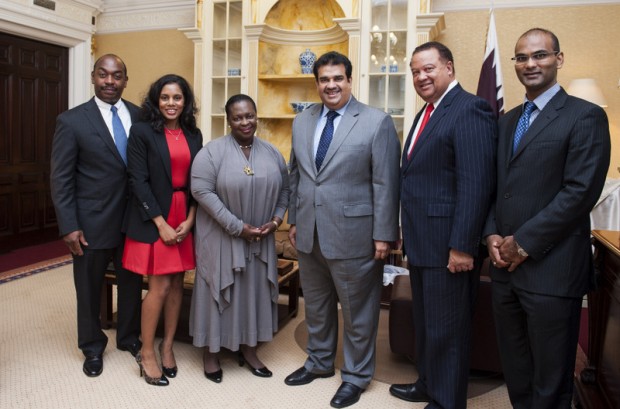 The spokesperson continued, "In recent years, Bermuda and its business community have worked closely to forge more sustainable, long-term economic ties with the businesses and governments of the GCC.
"This has included frequent visits by the Government of Bermuda and private sector representatives to pursue joint ventures, building on a long history of business relationships with the Island. Formal ties include a double taxation agreement and MOU on Economic and Trade Cooperation with Bahrain and Qatar."
Minister Furbert concluded, "Bermuda offers a number of distinct benefits that differentiate it from other financial jurisdictions. I truly believe that there is tremendous opportunity for the GCC and Bermuda to forge closer relationships through both economic and business partnerships to achieve mutually beneficial success."
The possibility of follow-up meetings was discussed to build on the existing platform and explore what the Premier described as "real potential", especially tangible projects in partnership with Qatar.
The Bermuda delegation took the opportunity to advise the GCC diplomats about a September conference in New York at which Bermuda will be participating with former US President, Bill Clinton, which could provide an opportunity for follow-on meetings in Bermuda.
Read More About