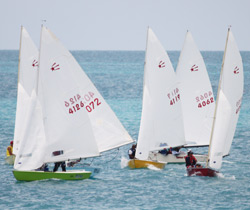 Stephen Dickinson and his crew Pat Young sailed to victory in the Comets Lawrence Stickers Hendrickson Memorial Regatta off the Mid Atlantic Boat Club on North Shore yesterday [July 1]. Dickinson and Young finished the regatta with three points, while Gladwin Lambert and Greg Proctor finished second with 5 points.
Rockal Evans – Christine Barnard finished third with 8 overall points, while Rajae Woods and his crew Kewshon Woods-Hollis finished fourth with 13 points, also finishing with 13 points was Scott Fox and his crew Kyle Symons who finished in fifth place.
Colin Clarke and Wesley Tucker was sixth overall with 15 points, while David Wall and William White finished seventh with 21 points. Eighth overall was Antoine Wingood and his crew Fred Bulford who recorded 22 points.
Maxwell Curtis and Copeland Smith finished in ninth place with 26 points, while Zaniko Henderickson and Wayne Raynor finished tenth with 28 points and Gerald Smith and Winston Paynter finished eleventh with 43 points.
Race 1
1 Gladwin Lambert – Greg Proctor
2 Stevie Dickinson – Pat Young
3 Scott Fox – Kyle Symons
4 Rocal Evans – Christina Bernard
5 Colin Clarke – Wesley Tucker
6 Antoine Wingood – Fred Bulford
7 Rajae Woods – Kewshon Woods
8 Maxwell Curtis – Copeland Smith
9 David Wall – William White
10 Gerald Smith – Winston Paynter
11 Zaniko Hendrickson – Wayne Raynor
Race 2
1 Stevie Dickinson – Pat Young
2 Gladwin Lambert – Greg Proctor
3 Rocal Evans – Christina Bernard
4 Rajae Woods – Kewshon Woods
5 Colin Clarke – Wesley Tucker
6 Scott Fox – Kyle Symons
7 David Wall – William White
8 Antoine Wingood – Fred Bulford
9 Maxwell Curtis – Copeland Smith
10 Zaniko Hendrickson – Wayne Raynor
11 Gerald Smith – Winston Paynter
Race 3
1 Stevie Dickinson – Pat Young
2 Rocal Evans – Christina Bernard
3 Gladwin Lambert – Greg Proctor
4 Rajae Woods – Kewshon Woods
5 Colin Clarke – Wesley Tucker
6 Scott Fox – Kyle Symons
7 David Wall – William White
8 Antoine Wingood – Fred Bulford
9 Maxwell Curtis – Copeland Smith
10 Zaniko Hendrickson – Wayne Raynor
DNS Gerald Smith – Winston Paynter
Race 4
1 Stevie Dickinson – Pat Young
2 Gladwin Lambert – Greg Proctor
3 Rocal Evans – Christina Bernard
4 Scott Fox – Kyle Symons
5 Rajae Woods – Kewshon Woods
6 Colin Clarke – Wesley Tucker
7 David Wall – William White
8 Zaniko Hendrickson – Wayne Raynor
9 Antoine Wingood – Fred Bulford
DNF Maxwell Curtis – Copeland Smith
DNS Gerald Smith – Winston Paynte
Related Posts