[Updated] Earlier today [Aug 14] Premier Paula Cox and Cabinet Ministers offered their official congratulations to Somerset Cricket Club on their win over St. George's in the 2012 Cup Match Classic.
The cricket players and Cabinet Ministers gathered at the National Sports Centre in Devonshire, where they all lined up and shook hands. Both Premier Cox and Sports Minister Glenn Blakeney congratulated the Somerset players on their win, before former SCC President Richard Scott and Somerset captain Jekon Edness addressed those gathered.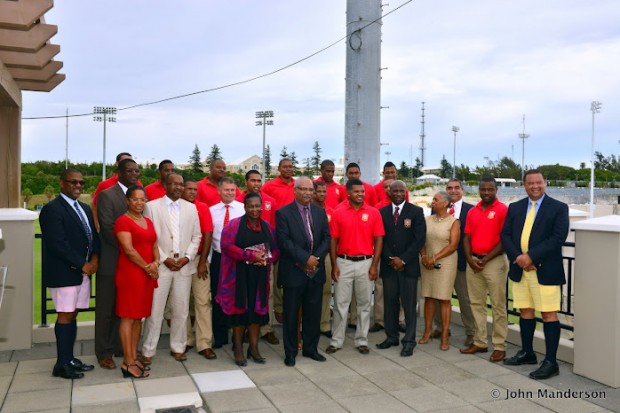 Premier Cox said: "It is my absolute joy to be here this afternoon to formally extend congratulations to you on your momentous Cup Match win. For two days, I along with thousands of other residents witnessed a thrilling display of leadership, strategy, athleticism and sportsmanship.
"Your victory, under the stellar guidance of skipper Edness, is an event that will not soon be forgotten.You kept us on the edge of our seats and even now, more than a week later the Island is still abuzz with intense debate and discussion of your historical win.
"A victory by 10 wickets is indeed impressive. Cricket is considered our national sport and over the two days of Cup Match 2012, the performance of both teams, truly raised the profile of our national sport.
"And in doing so, you've inspired countless young people to becoming the next generation of Cup Match heroes. Over the past several weeks, we have seen some amazing and incredible displays from those athletes participating in the 2012 London Olympics.
"Your sports colleagues in the areas of sailing, swimming, track and field, equestrian and triathlon, have truly represented Bermuda with pride in London. And with your decisive and commanding Cup Match victory you have certainly given us something here at home to cheer about.
"So Mr. Edness, I want to thank you for providing this Country… your Country with a wonderful event that served to unify a people through sport. To your teammates, this young man could not have done it without you.
"You proved to be a wonderful supporting cast to his leadership and we look forward to seeing you defend the Cup in fine fashion next year. On behalf of my Cabinet Colleagues and the Government of Bermuda, congratulations once again."
Photos by John Manderson, click to enlarge photos:
Related Posts