[Updated with videos] The Rainbow Alliance of Bermuda will be hosting an open forum for discussion and support at Queen Elizabeth Park today [Aug 17] from 12pm to 2pm.
A spokesperson explained that the Rainbow Alliance of Bermuda is a collective of people supportive of the rights and struggles of the LGBT [lesbian, gay, bisexual and transgender] and queer community of Bermuda.
The open forum will give people an opportunity to express themselves and their stories through whichever form they choose, including spoken word and music, the organisation said.
Last month politicians debated adding an amendment to the Human Rights Act to ban discrimination based on age and sexual discrimination, with the majority of MPs who spoke in favour of extending the Human Rights Act.
Update 2.37pm: Caitlin O'Doherty from the Rainbow Alliance said: "The event was a total success! We had over 100 people turn up throughout the two-hour open forum, with dozens of people taking the microphone to speak or sing.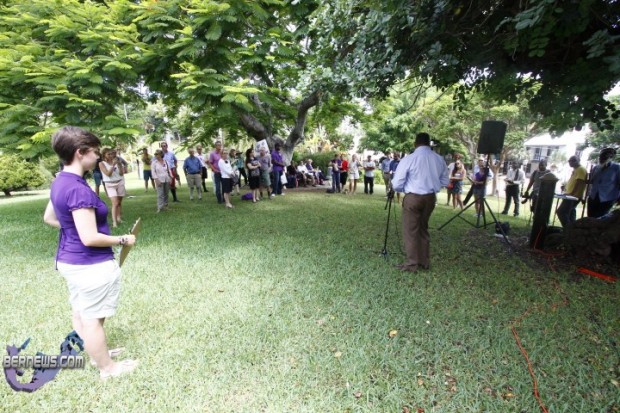 "We heard from members of the LGBTQ (lesbian, gay, bisexual, transgender and queer) community tell their stories and express themselves, as well as many supportive, straight allies who demonstrated the importance of changing the mindset of the community towards this marginalized group.
"The Rainbow Alliance of Bermuda hopes to continue trying to create safer spaces for positive dialogue in the future, but we need your help! Please email rainbowalliancebda@gmail.com or find our page on Facebook to show your support and interest in continuing to end the silence around this part of Bermuda's community."
Update 4.48pm: The first of three videos is below. PLP candidate Walton Brown attended the event and said: "I think it is very important for all of us who believe in a society free of discrimination that we support ensuring that there is protection under the law for people irrespective of sexual orientation."
"Anyone who has has been a victim of discrimination of any sort should not want to see discrimination brought on anybody else in any way shape or form."
Update 4.58pm: The Rainbow Alliance's Caitlin O'Doherty said: "The turnout is great, we have people from all walks of life, whether they be gay or straight allies.
"It's hard to grow up in Bermuda as a person in the LGBT community," said Ms O'Doherty. "As there is not a lot of outward support. And that is what we wanted to show."
Update 6.11pm: OBA candidate Andrew Simons quoted American civil rights leader Bayard Rustin, saying "That's our job today: to control the extent to which people can publicly manifest antigay sentiment."
Mr Simons said: "So long as people cannot publicly manifest that hate; whether its racism, or misogyny…hate against women. Or anti-immigrant, anti-foreigner, or anti-gay sentiment. That should be the focus, not trying to change everyone's mind."
Read More About